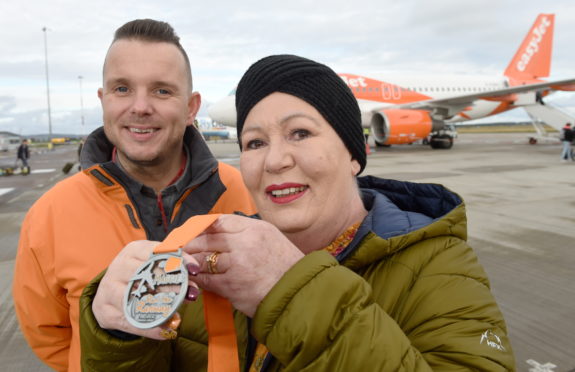 A Highland charity event has become a runaway success after raising more than £56,000 in support of cancer sufferers.
Around 200 people took part in Maggie's Highlands 5K Run the Runway challenge in August to help raise vital funds in support of the charities work.
Now organisers have revealed the effort smashed last year's £43,000 total by more than £10,000.
Andrew Benjamin, centre fundraising manager for Maggie's Highlands, said the charity was "thrilled" following the success of the event.
He said: "Every year, we look to try and repeat the success of previous years and we knew it was going to be a task to get there after the last two years have been so successful but to finish £10,000 over where we finished last year is absolutely amazing.
"Part of the highlights is seeing so many people who use Maggie's take part in this event as well."
Among this year's attendees was Lorraine Fraser, from Forres, who raised an impressive £1,900.
The 63-year-old has become a regular user of the centre after being diagnosed with breast cancer in March.
She said: "It's really important to have goals and when I was diagnosed the Run the Runway actually tallied with my last chemotherapy so I'm quite amazed that I managed. Two of my friends, which I have to say a special thank you to, they came along with me. They had a wheelchair but I managed to do it.
"Thanks to everyone for their support over the last seven months. I have been through chemo, radiotherapy, operations the whole lot and everybody has just been so supportive and Maggie's are wonderful. Knowing that's there and the support is there is fantastic."
The charity will now increase entry numbers for next year's event to 250.
Mr Benjamin added: "This is the third year and I guess what is so humbling is over the three years the need to increase this event is just become more relevant.
"I have to say a massive thank you to Inverness Airport because obviously we couldn't do it without them. That's such a huge support and it's just so good to have such a big organisation of that size in the community that's just so willing to help us."