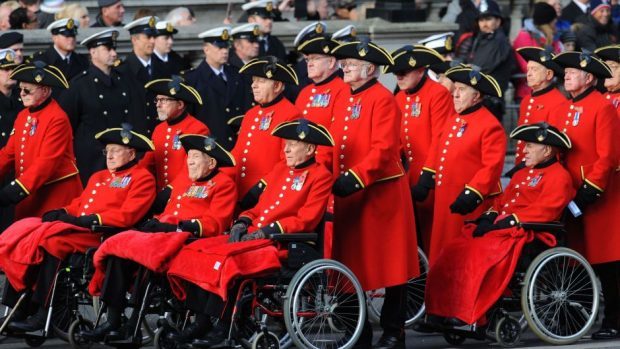 Poignant ceremonies are being held across the north and Moray this weekend to mark remembrance Sunday.
In Inverness, service personnel, veterans, reserves, young cadets and members of the local community will gather at St Michael's Church for a service from 9.45am.
Two parades will then form up on Huntly Street from 2.15pm before marching down to Cavell Gardens for a poignant remembrance and wreath-laying ceremony at the city's war memorial.
Paul Wilson, chairman of Legion Scotland's Inverness branch said: "It is important we remember those that gave their all in the two world wars and all conflicts since. This year being the 75th anniversary of D Day and the impact this had on bringing the Second World War to an end and liberating Europe from tyranny.
"We must ensure that future generations continue to remember and not forget the past in order to ensure it doesn't happen again in the future."
In Lochaber, a parade will be led from Dudley Road in Fort William to the local war memorial from 10.50am to lay wreaths ahead of the community's annual church service.
The ceremony will be followed by a brief services at the Commando Memorial in Spean Bridge from 3pm.
Meanwhile, residents in Oban will gather outside the Corran Halls from 10.30am for a parade through the town prior to a service at the Esplanade War memorial, where deputy lord-lieutenant, Neil Matheson, will lead the wreath laying ceremony.
In the Islands, remembrance Sunday services will also be held at various churches including Martin's Memorial Church, St. Columba's Church, High Church and St Peter's Episcopall Church in Stornoway, St Columba's Church in Shetland and St Magnus Cathedral in Orkney.
A total of 39 services will take place across Moray to remember those who fought in conflict.
Service personnel from RAF Lossiemouth will parade through the town from 10.20am to the war memorial to lay wreaths in memory of those who gave their lives, followed by a service at St James's Church.
In Forres, personnel from 39 Engineer Regiment from Kinloss Barracks will parade through the town before come to a halt at the local War memorial near the junction of St Catherines Road at 10.45am; as service personnel in Elgin lay wreaths at the town's war memorial on Plainstones at 11am.