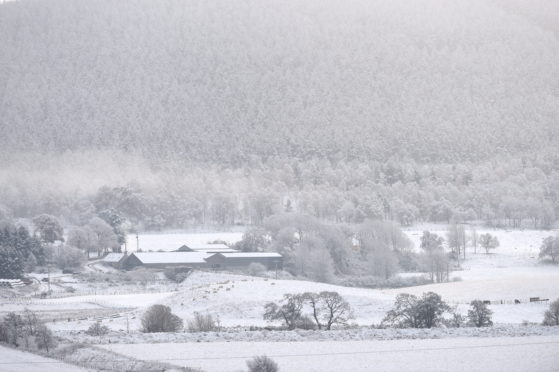 The first flourish of winter weather saw snow cover parts of the north of Scotland overnight and into yesterday.
Temperatures plummeted to well below zero across the Highlands, Moray and Aberdeenshire, with Kinbrace in Sutherland recording the lowest reading of -4.5C, closely followed by Tulloch Bridge at -4.3C.
Craig Snell of the Met Office said: "The snow showers did eventually ease off, but the really cold temperatures enhanced the feel of winterness on higher ground."
Most of the north and north east will be sunny on Saturday, but Moray could get some rain. Sunday and Monday will be cold and bright with some sunshine, but freezing fog and high winds could also make an appearance.
Yesterday proved to be a sunnier day in most areas, although the Moray coast experienced a number of rain showers.
Inverness school runs and commutes were undertaken in sleet showers which settled later in the morning.
Aberdeen "enjoyed" a dull and fairly chilly day with sleet and hailstones coming in the afternoon.
Mr Snell said: "Elsewhere it was fairly nice with blue skies, but temperatures struggled a bit during the day, with Aviemore at 1.7C, Aboyne 5.5C, Fyvie 4.5C and Inverness at 4C.
"Overnight it will turn cold pretty quickly and temperatures could fall to -5 or -6 in the glens.
"Drivers should be aware there could be freezing fog during Saturday in some colder parts of the north. There could be a risk of the odd shower, but mainly dry but cold.
"Sunday will be much of the same, including the risk of freezing fog again. Those attending Remembrance Sunday events should wrap up as it could again be a bit nippy.
"It will turn cloudy and overcast as the day goes on, and there may be a band of rain across the area which may bring further snow across higher area."
As the working week begins, the area will avoid the worst of the rainfall predicted across Ireland, south-west Scotland and north England – but strong winds are being forecast.
Mr Snell said: "There will still be some sunshine, but it will become remarkably windy, especially across the Highlands, with some blustery showers. With the low temperatures it feel even colder with a biting wind.