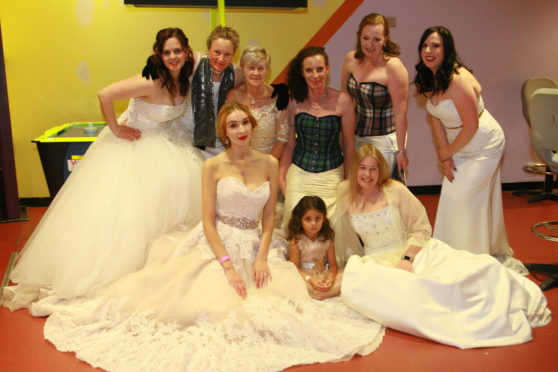 Bridges turned out in huge numbers for a fundraising wedding ball in Lochaber at the weekend.
Women of all ages glammed up in their own wedding gowns in a bid to raise money for a specialist service at Belford Hospital in Fort William.
The event was the brainchild of three friends – Deneil King, Michelle Purcell and Bonny Watkins – from the area – who had all suffered bereavements in recent years.
Mrs King said: "We were motivated because we each lost a parent in the last five to 10 years in our youth.
"We wanted to do something to honour them and we agreed the local hospital has a great reputation for taking care of patients.
"We came up with a fundraising idea which gave women the chance to show off their old wedding dresses – or over-the-top outfits they wore at functions.
"We thought it would be a fun charity event and give everyone the chance to glam up for a night to raise funds for a good cause."
The three women have set a target of £9,000 for specialist equipment at the rehabilitation services unit of Belford Hospital.
After the weekend's successful night at the Nevis Centre in Fort William they have almost reached £1,000.
Mrs King said: "We have to thank all those who turned out to give their support, as well as local businesses and people who also helped."