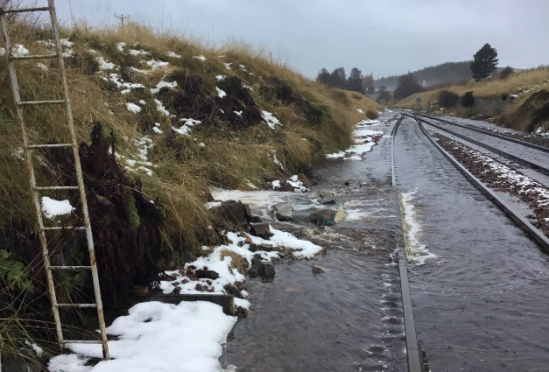 Two of the main rail routes in and out of the north were hit with a double whammy of flooding and technical issues.
Passengers trying to get to the Highlands and Moray from the south suffered a day of disruption.
The Highland Main Line from the Central Belt was completely shut for hours due to water on the tracks at Slochd Summit.
And a fault in track fittings on the West Highland Line in Argyll stopped services between Glasgow, Oban and Fort William.
About 100 yards of track at Slocht was left submerged by flood water following an evening of heavy rain.
The Perth to Inverness line was closed for several hours as engineers worked to clear the water from the tracks.
A team from Network Rail were onsite between Carrbridge and Inverness by about 8.10am to clear the area.
A Network Rail spokesman said: "Flood waters can pose a real danger to rail safety – dislodging the track bed or damaging signalling systems."
All services bound for Inverness were terminated at Aviemore.
The track was reopened shortly before 10.30am with a 5mph speed restriction remaining in place.
The second loop line remained closed for some time as anxious rail bosses monitored the area as more rain fell.
Two hours after clear-up work started at the Slochd, commuters on the West Highland Line faced similar disruptions as services ceased following a fault on the line.
Engineers were drafted in to work on the fault between Connel and Taynuilt in Argyll after two fishplates – used to secure two pieces of rail together – were found to be broken.
Services from Glasgow bound for Oban, Fort William and Mallaig were terminated at Crainlarich as engineers worked to repair the line.
A Network Rail spokesperson said: "It would have been unsafe not to close the line and address the fault immediately and we apologise to customers of the disruption caused."
Services resumed ahead of the evening's peak travel period as line reopened around 3.20pm.
Meanwhile, engineers from Scottish Southern Electricity Networks (SSE) were out in force following power cuts on three Scottish islands.
Engineers were first alerted to an outage on Tiree at 8.30am affecting 48 customers across the area. The fault arose following damage to a wooden pole which brought the line down for around eight hours.
On the Isle of Raasay, a total of 414 customers were also left without power following an outage across the area, as 208 customers on Shappinsay in Orkney experiences similar effects.
Engineers worked throughout the day to restore power to the affected customers.
A spokesman from Scottish and Southern Electricity Networks said: "We would like to apologise to our customers who have been affected by these power cuts and assure them that our engineers are doing everything they can to restore supplies as safely and as quickly as possible."