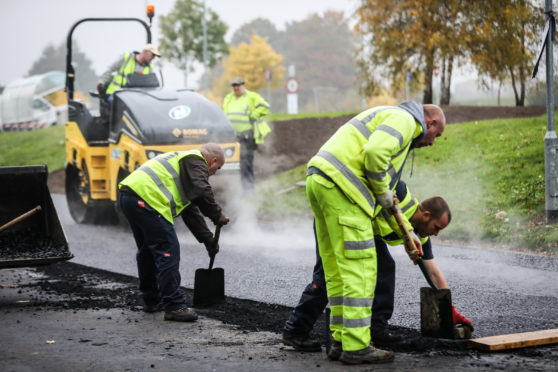 Plastic waste could soon be used to build roads in northern Scotland after local transport chiefs agreed to trial the pioneering technique.
Highland Council, which oversees the nation's largest local roads network, has decided to carry out the tests and report the results to neighbouring councils in the north and north-east.
Under the plans, a small section of road would be laid in the Highlands early next year using a material that replaces part of the bitumen in the mixture with recycled plastic.
The move could represent a significant step forward towards the roll-out in Scotland of so-called "plastic roads", which have been hailed as an environmentally-friendly way to repair or replace crumbling highways.
Transport Scotland, which runs the nation's trunk roads, also confirmed last night that it had "recently engaged in dialogue with a supplier" of a product made from waste plastic.
Councils in East Ayrshire, East Dunbartonshire and Dumfries and Galloway are already understood to be conducting trials using the technology.
A temporary car park at the P&J Live venue in Aberdeen was also built using three tonnes of waste plastic, while Springfield Properties used 20 tonnes of recycled material in a 60ft-long stretch of road in an Elgin residential development.
But Highland Council, which manages 4,200 miles of road, is thought to be the first local authority in northern Scotland that is planning to use it on a public route.
The idea was agreed by councillors this month despite concerns raised by officials.
Highland Council's vice convener Allan Henderson said: "To me it's very interesting, because one of the biggest problems in this world today is plastic, so if we could take that out, it reduces a huge volume and gives it an end value as well.
"Officers still have quite a lot of reservations about it because they don't want to be charging on and then find out you've got it breaking up, you could get the nurdles, or whatever you want to call them, ending up in the watercourses and whatnot.
"But what we did agree to was to put in a small trial section. We thought we might as well have one small part, where it would be normally trafficked, to see what the result is.
"We're probably only talking about a 10 or 15 metre stretch, or something like that."
Mr Henderson said the local authority would report the findings to the Northern Roads Collaboration Joint Committee, which comprises Aberdeen, Aberdeenshire, Angus, Argyll and Bute, Highland, Moray and Western Isles councils.
Aberdeenshire Council's deputy leader Peter Argyle said its roads service was always looking at "more effective and efficient ways of working", including using plastic waste.
"We're exploring new materials and new techniques for filling potholes as well, some of which are very good but cost more," he said.
"One of the obvious ones is the use of plastic for repairing roads and that is something that has been trialled elsewhere.
"I think at the moment our view is that it is unproven and there have been issues raised about the possibility of microplastics leaking into watercourses.
"So it's not something that we're going to adopt at this time but we're watching to see what is happening elsewhere."
An Argyll and Bute Council spokeswoman said it was also "monitoring the trial sites".
She added: "Among other things, we would like to understand any potential, long term environmental issues of using plastics in road covering, although we believe the actual plastic content in the product is fairly small."
John Finnie, Scottish Greens transport spokesperson and Highlands and Islands MSP, said: "Clearly we need to look more at re-using and recycling, but there needs to be a comprehensive assessment of all the implications of this product.
"We need to understand the environmental impact of heating the plastic and how its use impacts our air and soil.
"And this can't be a long-term solution. We must be reducing our consumption of plastic and building sustainable alternatives, including an integrated public transport system for Highland communities."
As well as plastic, trials have also been conducted using crumb rubber from waste tyres, including on the A90 north of Perth in 2012 and last month on the M9, which runs from Edinburgh to Dunblane.
Last night, a Transport Scotland spokesman said: "Transport Scotland is keen to encourage innovations with respect to materials used on the Scottish trunk road network that meet national standards and specifications.
"We have recently engaged in dialogue with a supplier developing a product made from waste plastic for use as an additive in road construction asphalt.
"Any such products need to demonstrate they fully meet the relevant standards and specifications, provide confidence that the materials will perform satisfactorily over the longer term and represent value for money to the tax payer."