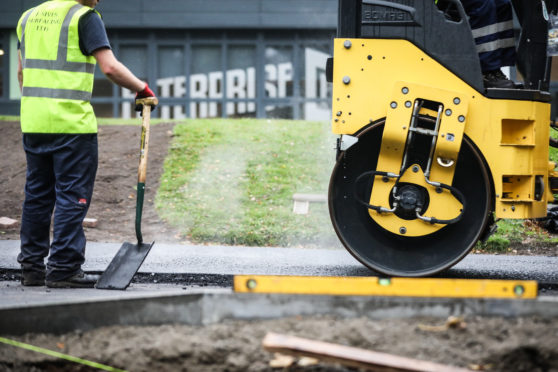 The firm behind "plastic roads" has urged Scottish authorities to catch-up with their counterparts south of the border in realising the potential of the technology.
MacRebur was formed in 2016 to develop recycling techniques one of its founders had witnessed in action on roads in India.
Traditionally, an asphalt mix used to resurface a road will contain crushed rock, sand and bitumen.
But the new process substitutes part of the bitumen with recycled plastic.
In a presentation to Highland Council in the summer, MacRebur representatives said one tonne of recycled plastic was used in every 330 tonnes of asphalt.
The company also states that for every tonne of product used, the equivalent weight of mixed plastic of 80,000 bottles is saved from landfill or incineration.
Cumbria County Council became the first authority in England to incorporate the plastic-based material into the standard asphalt used to resurface a small section of the A6 in Carlisle in late 2016.
And in August 2018, Durham County Council laid a section of the A689 near Sedgefield using the plastic additive.
Lockerbie-based MacRebur was also involved in creating a car park at the P&J Live venue in Aberdeen using plastic, as well as a section of road in an Elgin housing development, and has been involved in trials in Aryshire.
But the firm's contracts manager Sarah Lakin said: "English and Welsh councils are far more proactive in developing the use of MacRebur products.
"If we are deemed to meet the acceptable standards in England and Wales, then the same standards apply to Scotland.
"In England we are already written-in to council frameworks, so we do not understand why this is not currently happening in the public sector Scotland.
"During this 'trial' process we continue to develop the private market in Scotland with expediential growth through 2019/20."