'15 years on, we are all still mystified': Will the murder of Nairn banker Alistair Wilson ever be solved?
November 28, 2004 will forever be etched into the history of Nairn.
That was the day the quiet seaside town was catapulted to national prominence by the murder of Alistair Wilson.
It was a Sunday night five weeks before Christmas and most of the town's streets were deserted as locals sought refuge indoors from the bitterly cold temperatures.
In a grand terraced house on Crescent Road, Veronica and Alistair Wilson were in the middle of their own Sunday night routine, getting their young sons ready for bed.
The doorbell rang. Veronica answered it and stood on the doorstep in the darkness was a stranger wearing a baseball cap and a blouson jacket.
He uttered two words: "Alistair Wilson."
Veronica was surprised but didn't remember feeling uncomfortable. She even left the door open as she headed upstairs to get her husband.
Alistair spoke to the man for a few moments before returning to his wife, holding a blue A4-sized envelope.
He returned to the door and a few minutes later, three gunshots rang out.
Until then, Nairn was best known as an idyllic tourist spot, famous for its picture-perfect beach overlooking the Moray Firth.
Synonymous with sandcastles and ice cream, it prided itself on being a place where no one was a stranger.
Sandy Park was Nairn's Provost at the time of Alistair's murder and remembers the aftermath vividly.
He became the unofficial voice of the local community at a time when journalists from all over the world were descending on the town.
Sandy had met Alistair just a few months before his death at a business dinner in the town's Newton Hotel.
"He impressed me," recalled Sandy. "I thought this is the type of guy I'd like to know and this is a guy that will make something happen.
"At the time we were negotiating with a developer about a housing scheme and Alistair said if there were any problems maybe he could direct some of his contacts towards it but obviously, that never happened."
Part of Sandy's job as a local councillor was acting on complaints from people in Nairn.
One of those ended up leading to one of the case's few significant breakthroughs.
A clogged up drain had been flooding the pavement in nearby Seabank Road. It had been that way for a while and people were getting fed up with it.
Sandy said: "There was a dispute between the council and Bear Scotland about who was responsible for clearing it.
"I said to our guys 'look, I don't care whose it is, it needs to be done.' So they cleaned it out and there was the gun."
It was not what anyone in the UK would describe as a typical gun.
It was a Haenel Schmeisser, a 1920s German handgun known as a pocket pistol because of its diminutive size.
Found 10 days after Alistair's death, it gave fresh hope that the killer would now be caught.
Forensic analysis identified it as the murder weapon but tests on the gun failed to extract any usable DNA.
The discovery came during a period of extensive police activity in Nairn.
Officers had erected a Portakabin behind the town's police station and more than 60 detectives were working on the case.
The lead detective at the time, Detective Chief Inspector Peter MacPhee, gave a daily briefing to Sandy to help him keep the town informed.
Sandy said: "When I met the officers I had great confidence that this would be solved quickly.
"They had everything set up there, they were delving into phones, his computer, they were working very hard.
"But it's very difficult to still have that confidence after 15 years."
The case was the talk of the town for a long time and it still gets discussed. Even further afield, many people think of Alistair Wilson when they think of Nairn.
"I have been abroad on holiday, told people where I'm from and they ask if the murder was ever solved," said Sandy.
"Even now in Nairn, people talk about it. Will it ever be resolved?
"I would like to think so. It would mean an awful lot to the town."
That's a sentiment shared by Dick Youngson, a long-time Nairn resident who served on a local community council for more than four decades.
"We are still mystified," he said. "It really affected the local community because we just don't know why it happened.
"This is such a tight-knit community, we always look after our own. The Wilson family handled everything very well and have remained part of the community, it's just a sad story we have to live with."
The lack of progress on the case has undoubtedly caused some frustration in Nairn.
It has led to calls for police, after 15 years with no arrests and no motive established, to put their cards on the table and publicly reveal everything they know about the murder.
But that is not a view shared by current Nairn Provost Laurie Fraser.
Councillor Fraser, who served as a police officer in London and Hong Kong during the 1970s and 1980s, said: "It's imperative the police are allowed to build their case.
"There are risks that it could bring the wrong people out of the woodwork and people can draw the wrong conclusions.
"You've got to keep some information back just to assist with the inquiry. You have to trust them, they're doing the best they can."
Whether that will ever be enough remains to be seen. As another milestone anniversary of Alistair Wilson's death passes, you can't help but feel that the likelihood of this ever being cracked is dwindling.
On the other hand, cases older than this one have been solved in the past and advances in DNA and forensic technology could one day provide a new breakthrough.
Not to mention the weight this murder must have had on at least one person's conscience.
In the meantime, the people of Nairn are keeping everything crossed they will one day get the answers they are looking for.
---
TOMORROW: Murder investigation experts call on Police Scotland to release Alistair Wilson case files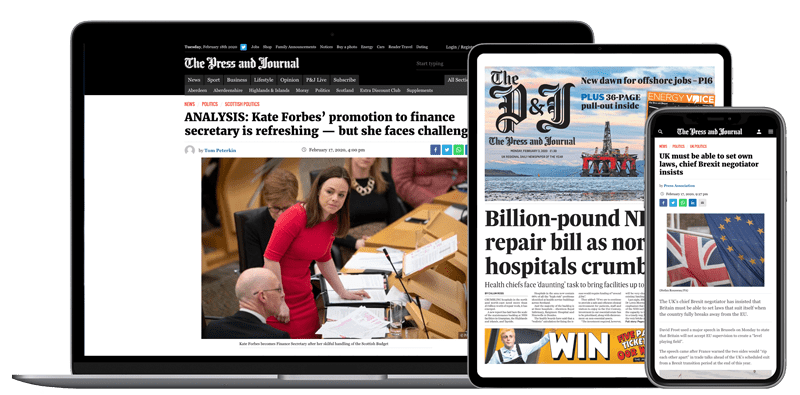 Help support quality local journalism … become a digital subscriber to The Press and Journal
For as little as £5.99 a month you can access all of our content, including Premium articles.
Subscribe