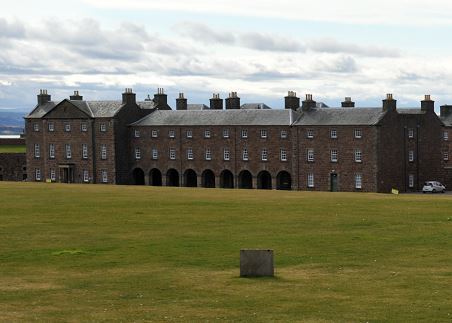 The historic Fort George military barracks in the Highlands could still be saved from the axe, it can be revealed.
Defence Secretary Ben Wallace has refused to rule out a U-turn on the UK Government's controversial decision to close the 250-year-old garrison.
In an exclusive interview with The Press and Journal, he said he was looking with "fresh eyes" at the future of Scottish bases and that "nothing is off the table".
The Conservative minister added that he would have "further discussions with our chiefs" about Fort George and that previously announced basing decisions were now "less set in stone".
MSP blasts 'short-sighted' plans to leave Highlands without a military base
Built after the Battle of Culloden, the barracks near Ardersier faced closure in 2016 as part of a programme of cost-cutting measures by the Ministry of Defence.
The P&J launched the Fight for Fort George campaign, which was backed by 6,000 people, including the actor Hugh Grant, whose grandfather was a former commander at the barracks.
The closure of the base was confirmed in November 2016, but defence chiefs agreed to postpone the withdrawal of the famous Black Watch battalion until 2032.
The stay of execution was designed to give the area time to prepare for the loss of hundreds of jobs and a £16 million blow to the economy.
But Mr Wallace, a former Scots Guards officer and north-east MSP who was appointed defence secretary in July, has now signalled that a review of the decision could be carried out.
Speaking to the P&J while on an election campaign visit to Aberdeenshire and Moray, he suggested that the future of Fort George could be influenced by his determination to meet a commitment to increase defence personnel in Scotland to 12,500 by 2020.
He said: "Across the UK defence estate there was this plan to rationalise and change different estate, and I had it in my own constituency. And I think we have to be very careful on how we proceed.
"It is important. This was about selling old barracks to invest in new modern barracks and modern accommodation for our troops. We've got to keep an eye on that.
"So while currently the Fort George closure is still planned, I would be very keen that we meet our referendum pledge on the number of troops.
"Whether Fort George is the right place to close still or keep it open, I've got to have further discussions with our chiefs.
"We've got 500 new people in Lossiemouth towards the pledge, and we need to think about army recruitment.
"What I am looking at with fresh eyes is military basing in Scotland to make sure we meet our pledge."
Questioned further on whether Fort George was still earmarked for closure, Mr Wallace said: "I'm determined to keep the pledge, of the 12,500 I think it is armed forces personnel in Scotland.
"I know it's slightly delayed, it's not on track and speed, but I'm determined to achieve that, which was a promise we made at the referendum.
"And so we've got to make sure we have right bases for troops, and whether or not that includes Fort George… Nothing is off the table, is how I would put it.
"I think what I would say is that is now less set in stone, any of the basing changes."
The remarks were welcomed last night by Stewart Nicol, chief executive of the Inverness Chamber of Commerce.
He said: "It's excellent news. Even in the context of a general election campaign, it's nonetheless a positive development in terms of a shift in the messaging and the language that's being used.
"It would be significant for Inverness and the Inner Moray Firth if that was to be delivered upon."