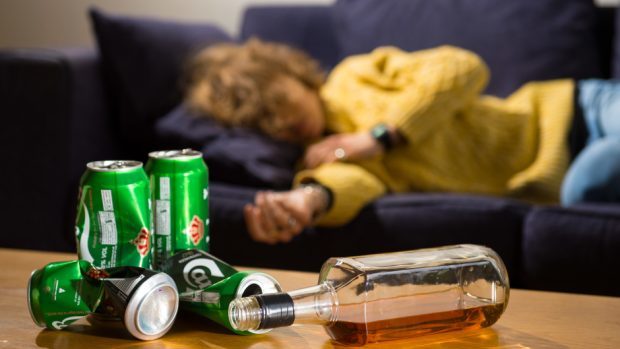 Calls have been made for "urgent action" to tackle drinking across the north and north-east amid rising hospital admissions for alcohol poisoning.
New figures revealed by the NHS information services division show that NHS Grampian had 1,020 new patients admitted to hospital for alcohol-related reasons last year, while NHS Highland recorded 750.
Orkney had 48 new patients, Shetland 69 and the Western Isles 93.
For all five, that was an increase on the previous year.
Together we can reduce the serious harm caused by alcohol. Sign up to the @AlcoholChangeUK newsletter to stay in the loop and help make change happen.#AlcoholAwarenessWeek https://t.co/IiDWasAHs8@AbdnshireADP @MorayADP @AlcDrugsAction

— NHS Grampian (@NHSGrampian) November 17, 2019
The single biggest reason for admissions across each area was "acute intoxication" – better known as alcohol poisoning.
There were 372 new patients treated for the condition at NHS Grampian hospitals last year and 249 in NHS Highland facilities.
Charities have called for more support from the Scottish Government, particularly in rural areas, to help reduce the "frightful" numbers.
Highlands and Islands MSP Jamie Halcro Johnston said: "It is deeply worrying that so many people, particularly from across the Highlands and Islands, have been admitted to hospital with problems associated with alcohol.
"The Scottish Government must ensure that the resources are in place to turn this situation around and save our communities from the consequences of what is a growing problem."
Justina Murray, chief executive of Scottish Families Affected by Alcohol and Drugs added: "Despite the fact so many families are affected, much of this (alcoholism) remains hidden from sight and behind closed doors due to the secrecy, shame and stigma family members feel about their loved one's drinking.
"This is particularly the case in rural areas such as Aberdeenshire, where small, close-knit communities can mean that people are worried about their neighbours finding out what is going on at home."
The charity has recently launched a new confidential family support service in Aberdeenshire to combat this.
On a nationwide level, the NHS information services division's figures found there had been a "steep and sustained increase" until 2007, but that since then the number of patients treated for alcohol-related issues has fallen slightly.
If you are concerned about your own drinking, then do not hesitate to contact us on 01224 594700 (helpline) or check our website for more details of our services. Other national agencies are listed here.https://t.co/J6Wr8DxESE#alcoholawarenessweek pic.twitter.com/UXSDzTZzwE

— Alcohol&Drugs Action (@AlcDrugsAction) November 11, 2019
The statistics showed that men are also two-and-a-half times more likely than women to be admitted to hospital for alcohol-related conditions, comprising 70% of hospital admissions over the past year.
Of those women, the age group with the highest rate of alcohol-related admissions was between 45 and 54.
Andrew Misell, director of Alcohol Change UK, said: "It's vital that we all keep track of our drinking as it can creep up on us, and even seem normal among our friendship group."
A Scottish Government spokesman said that steps were being made to tackle the problem, but that it would take time.
He said: "Scotland experiences high levels of alcohol related harm, including an average of 686 general acute hospital admissions every week.
"However, earlier this year, an independent report showed a 3% decrease in the volume of pure alcohol sold per adult in Scotland in 2018, following the introduction of minimum unit pricing.
"Though this fall in sales is encouraging, it will take longer for the impact of reduced consumption to feed through to alcohol health harms like hospital admissions.
"We will review the level of the minimum unit price after two years to ensure it delivers the desired outcomes for the people of Scotland."
'These figures are definitely a cause for concern'
Alcohol and Drugs Action works across Aberdeen and Aberdeenshire  to reduce the numbers of people affected by substance abuse.
The charity, headed by Fraser Hoggan, has said that, historically, alcoholism in the north-east has been above the Scottish average.
A variety of factors – fluctuating wealth since the oil downturn and higher levels of deprivation in urban areas – have been to blame.
He said: "These figures are definitely a cause for concern.
"No area is untouched in Scotland – it is a mixed picture in how to best address the problem.
"By the time people get to hospital they are at crisis point and we want to do more to catch people before this stage, and reduce the number of chances for help that have been missed."
The charity sends a volunteer, who has experienced alcoholism, to Aberdeen Royal Infirmary to speak with alcoholism sufferers before they are released.
It is an idea they hope can be expanded on in Aberdeen and beyond to prevent hundreds of people in Scotland from being readmitted.
Mr Hoggan added: "It is a valuable piece of work that prevents the often prevalent merry-go round of re-admissions for alcohol misuse.
"We recently conducted a quiz which has been extremely beneficial in seeking the variety of people affected.
"People drink for a variety of reasons – to curb anxieties or it may be coupled with other issues such as mental health. And the issue of stigma – especially for the increasing numbers of women seeking help – is still an issue.
"There is help out there, it is making sure it is signposted correctly."
ADA is currently doing a quiz to determine the drinking habits of those in the north-east. To take part, click here.
'We must never forget that behind these statistics are hurting individuals'
The Caladh Trust is based on the Isle of Benbecula in the Outer Hebrides.
The charity seeks to reduce substance misuse across the region, but faces its own challenges in helping such a small community.
A spokesman from the charity said that "relentless" promotion of alcohol advertisement had contributed to the increase in figures.
He said: "We are saddened by the new data, but not entirely surprised.
"Given that sales data showed a rise of 15% in alcohol consumption from 1994-2016, it was to be expected that the number of people needing help would also increase.
"We must never forget that behind these statistics are hurting individuals, heartbroken families, concerned communities and already over-stretched health professionals.
"We share similar challenges to the rest of Scotland in this regard: an unhelpful cultural relationship with alcohol; the glamorisation and relentless promotion of what is actually a potent drug; the ready availability of alcohol, both at local level and through online delivery services; and a general complacency regarding levels of alcohol harm.
"While we accept that attitude-changing takes time, we long for the day when Scottish society has a wiser relationship with alcohol.
"For that to happen, we all need to make better lifestyle choices and to commend these to others, especially the young."
To find out more about the Caladh Trust go to www.facebook.com/thecaladhtrust