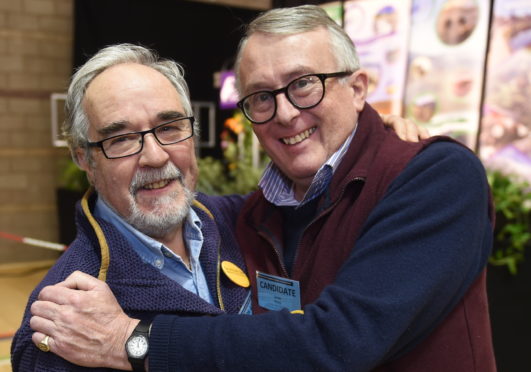 Liberal Democrat Jamie Stone held onto his Caithness, Sutherland and Easter Ross – by just 204 votes.
Mr Stone fought off fierce competition from the SNP's Karl Rosie to retain his seat at Westminster.
Mr Stone, from Tain in Ross-shire, said: "I am absolutely stunned. I have spent all night thinking that I was going to lose the seat for sure and to have held it on a night where my party wasn't doing very well and the SNP was doing so well, it just takes my breath away.
"I went behind the screen to see what the figures were and I nearly fell over backwards when I realised. I also almost physically fainted when I went out onto the stage.
"I am really touched by the trust the people put in me to carry on the work.
"It is clear that what my party has to do is look very closely at why we did so badly in this election when we should have done an awful lot better and therefore change accordingly."
Despite the SNP's defeat, Caithness councillor Raymond Bremner said it had been a good campaign.
He said: "We ran the Liberal democrat candidate Jamie Stone to the point where he had thought he had lost it and at one point we were looking very favourable. I think maybe the postal votes, right at the end just turned it around so it's been a bit of a rollercoaster.
"We are very tired but we ran a good campaign. I am gutted for Karl but he can take a lot of credit out of this."