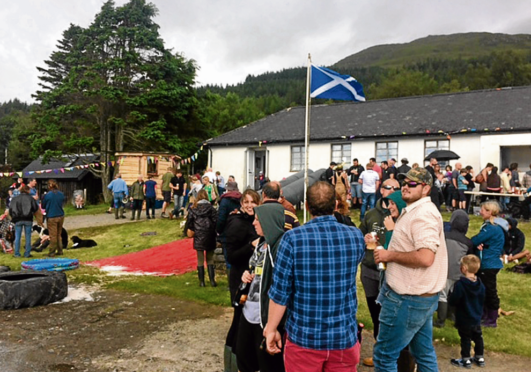 Residents of a remote Lochaber village aim to make their mark on history by launching a buy-a-brick scheme as part of the £400,000 transformation of their community hall.
Built in the 1950s, Knoydart Village Hall is only accessible by boat or via an 18-mile hike across hilltops, taking in the stunning scenery of the picturesque area.
Regeneration of the single-storey building began in June ahead of its anticipated grand reopening early next year.
With the festive season fast approaching, those behind the project are offering locals and visitors alike the chance to buy a signature brick.
Each brick can be purchased for £100, with all proceeds donated to the community's ambitious project.
Isla Miller, chairwoman of Knoydart Village Hall, decided to purchase a brick in memory of her late partner, Victor Stockwell, who tragically died in a boating accident at Knoydart pier in June 2012.
Their seven-year-old son Victor has been actively involved in the restoration project and she was desperate for Mr Stockwell to be a part of the changes being made to the place that remains very close to her heart.
She said:  "He was always up dancing at events at the old hall and I just wanted a way to commemorate him in the new hall.
"My son and I were among those at the volunteer day. He is seven and helped to demolish a knee-high internal wall. He was handed a hammer and got to knock it down.
"He has been trying to be as hands-on as he can and I really wanted my partner to be a part of the new hall too."
The unique bricks will be crafted from off-cuts of the locally grown and milled oak being used for the floor. They will then be inscribed with the names of each donor.
Once complete, they will be mounted within the hall to create a "tapestry of commitment" from people involved in the historic project.
Miss Miller added: "It's just lovely there is that link. The hall really is vital to the community."
The concept arose during the committee's efforts last year to raise the funds needed for the £400,000 project.
Lorna Schofield, a member of the Knoydart Forest Trust, said: "We had the idea that it would be a good fundraising opportunity to create a welcome wall of bricks that could be inscribed with the names of supporters of our hall refurbishment project or their loved ones.
"To add a real "Knoydart touch" and maximise the use of local resources ,we decided to make the bricks out of wood."