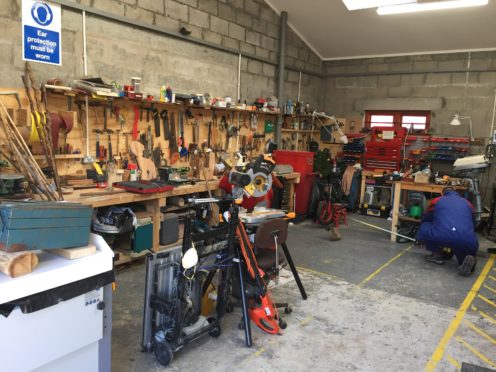 The future of a north Men's Shed is hanging in the balance as it struggles to meet running costs.
Fort William Men's Shed is run out of a property at Blar Mhor Industrial Estate, with 93 members regularly using the service.
The organisation gives men a place to go and meet, to help beat isolation and loneliness.
But, while some groups around the country have struck deals to pay just £1 in rent, the Lochaber branch forks out £477 in rent to Highland Council each month – more than £5,000 each year.
Secretary and treasurer, Ian Langley, said: "Through our membership of the Scottish Men's Shed Association we get a lot of visits from other sheds who are just starting up.
"We try to help them with tools and equipment and ideas.
"Through meetings of this type we find out from them what rent they are paying, and during a recent visit we found out that one local Shed is only paying a peppercorn rent of £1 a year.
"We have established that we are paying an awful lot of money for rent in comparison."
The group previously made an unsuccessful bid to pay a "peppercorn rent" in 2015.
However, as funds begin to dwindle and the group continues to seek prospective donors to safeguard the service, Mr Langley admits the future looks bleak.
He said: "I have got around £9,000 in the bank which now has to last us three years.
"With rent at £477 a month, plus electricity and telephone costs at around £50 per month for each, it is almost £600 per month just to stay open.
"If you do the maths, it doesn't work.
"There is a very real danger that, probably before the end of next year, we are going to have to close down and then the community will suffer. We can't afford to exist."
A Highland Council spokesman last night urged the group to apply for a discounted rate.
He said: "The council supports a range of community organisations with access to facilities.
Men in the north and Moray tell how Men's Shed movement has improved their lives
"The costs will depend on the property in question, its rental value, condition, size and location. We would also have to consider competing council uses for the building.
"We encourage representatives from the Fort William Men's Shed to apply for a discount through the statutory process and contact our estates and policy team directly to discuss this in more detail."