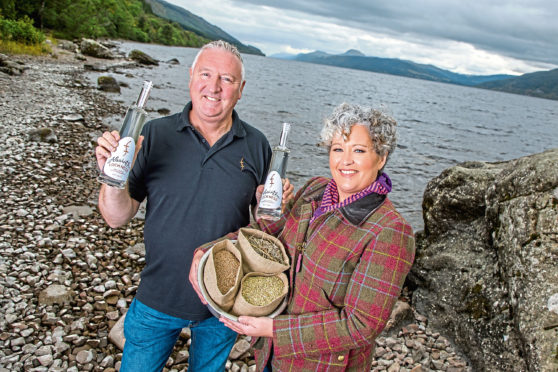 A north husband-and-wife company has won a "David and Goliath" battle to use Loch Ness in the name of the firm.
Huntly-based Duncan Taylor Scotch Whisky Ltd tried to stop family-owned Loch Ness Spirits from using the iconic loch in its title.
But the Intellectual Property Office (IPO) rejected the application – although the company will appeal.
Duncan Taylor had moved to have six trademarks registered by Loch Ness Spirits Ltd to be invalidated on the basis that their sister company, The Original Loch Ness Whisky Company, already owned the right to the naming of a whisky product associated with the name Loch Ness and had done so since 2008.
The case was heard by the IPO with Allan James rejecting the application stating that the applicant has "not shown that it is the owner of any goodwill generated under the name Loch Ness in relation to whisky".
He added that the "most dominant and memorable" aspect of Loch Ness Spirits is the "monstrous creature" as opposed to the words Loch Ness.
Mr James has ordered Duncan Taylor Scotch Whisky Ltd to pay Loch Ness Spirits £3,200 to cover costs associated with filing applications, evidence and counterstatements as well as the written submissions in lieu of the hearing.
Kevin Cameron-Ross, co-owner of Loch Ness Spirits, said: "We hope this is the end of the dispute.
"We have always maintained that we are Loch Ness. We are here; our family has lived here for more than 500 years, we work and live here."
Mr Cameron-Ross maintains that the correct procedures were followed when determining the name of the company, with Highlands and Islands Enterprise assisting to ensure the desired names complied and were not already taken.
He added: "Out of the blue, we received this letter demanding that we cease use of the Loch Ness name. There was no prior conversation, just a letter demanding that we comply with their demands as they are the authoritative voice. It was a David versus Goliath case.
"It has been a long process that has caused some distress but our focus is now on enhancing the brand and driving it forward."
Mr Cameron Ross added that he feels dispute has now raised the case for any product using the name Loch Ness to have been created or operated in the area and not from further afield.
Duncan Taylor Scotch Whisky Ltd said: "On the advice of counsel, and an impending appeal, we cannot comment further at this time."