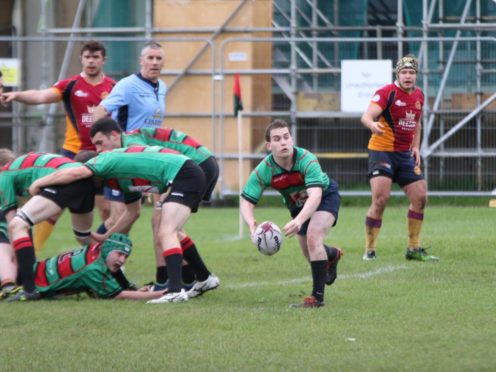 A Highland rugby club rocked by the death of a player has revealed plans to improve its welfare support.
Lewis MacDonald, 23, was found dead at his home in Nairn last month.
The scrum-half's sudden death shocked his teammates at Highland Rugby Club, and now bosses are looking at ways to improve all their players have easy access to mental health support.
Iain Chisholm, the club's development officer and director of rugby, said Mr MacDonald's death "blew wide apart" his concept of what the club should be about.
He said: "Until the tragedy with Lewis I thought we were doing enough, pushing the message it's OK not to be OK.
"Now I don't think we were doing enough.
"Lewis was a good friend, a kind person who gave up his time for a lot of people.
"I struggled with his passing, thinking we had a handle on mental health issues in the club.
"Now it's not a cautionary tale any more, it's in your face.
"We absolutely need to do more as a club to make sure it never happens again, so the club is a safe place to be and a safe place to talk."
Mr Chisholm said the tragedy had brought the club closer together and that everyone is determined to do more for members and the wider community.
"We had Mikey's Line in and had some real honesty sessions," he said. "We spent a lot of time talking about it.
"There's a real stigma around being seen to be vulnerable in a rugby club and in my roles, vulnerability and empathy are some of the best things you can have to make meaningful connections with people."
Mr Chisholm said the club is now looking to have a club chaplain and welfare officer.
He said: "This whole thing has blown wide open what I think a rugby club should be about.
"At the start of the year someone's going to win the league, and it doesn't matter because the league starts again at end of the year.
"It's about more than rugby, it should be about fun first – if it's no fun there's no point in doing it.
"The club needs to be attractive on and off the field, and a massive safety net and support network for dealing with mental health and other issues."