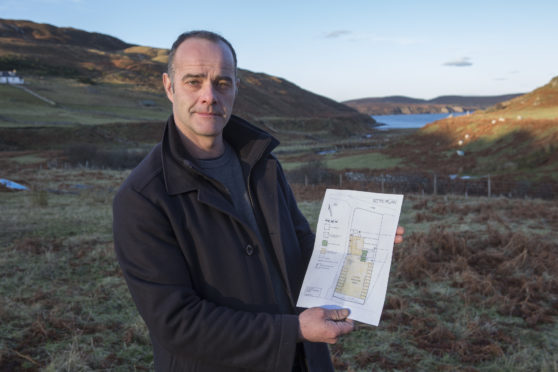 An enterprising Sutherland plumber has plans to wash a lot of dirty linen in public.
Kris Scott, 41, of North West Highlands Plumbing Services, spotted an opportunity when a piece of land, around 0.6 acre, came up for sale across from Smoo Cave in Durness.
Smoo has around 90,000 visitors a year, is on the NC500 and a popular destination with motorhomes.
Mr Scott put his thinking cap on to come up with service which the area needs, and also suits his particular skills.
He soon realised that with no laundry in the area for miles, a laundry kiosk would meet a lot of peoples' needs, from NC500 travellers and motor home owners, to local hospitality businesses and the nearby youth hostel.
He has lodged plans with Highland Council to demolish the derelict building currently on the site, a former officers' mess, and install a free-standing outdoor laundry unit capable of turning round 18kg/40lb of laundry in 30 minutes.
Mr Scott said: "Laundry facilities are the Achilles heel for campervans and hill walkers wanting to dry their clothes off, not to mention all the NC500 tourists and local businesses.
"One B&B owner told me she puts on eight or nine loads of washing per day, and this would save her hours of time."
The £30,000 KisWash kiosk is stainless steel, and will have an 18kg and an 8kg machine, plus an 18kg drier.
Mr Scott said: "The machine gets your laundry 80% drier than a domestic machine, meaning you don't need long with the drier to finish it off.
"They're a recognisable brand and popular in Europe. There's a successful one in Thurso, some 70 miles away.
"This should benefit quite a lot of people in the wider area also, and create a business opportunity for someone who could go round collecting and doing the laundry for businesses."
Mr Scott has just been awarded a £30,000 grant from LEADER, subject to planning approval, to help him get his business off the ground.
B&B owner Alexandra Thomson of Aiden House in Durness said she was looking forward to the arrival of the kiosk.
She said: "I have four bedrooms and three self-catering pods, that's a lot of laundry.
"This should cut my time down by at least half, and possibly my massive electricity bills also.
"Guests are always asking me to do laundry for them, so this will be fantastic for them.
"Durness has always been a popular spot with tourists and needs more things like this."
Mr Scott's also wants to put 20 pay and display car parking spaces on the site to ease congestion at Smoo, and is mulling over the possibility of renting pitches on the road side to catering vans, if there is demand.