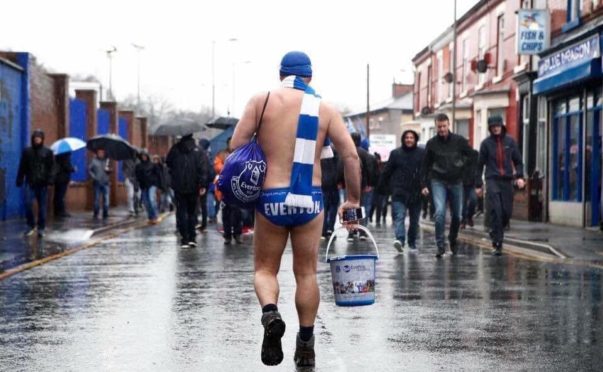 A Liverpool man who is walking the length of Britain in aid of disadvantaged young people is doing so in just a pair of swimming trunks and his swimming attire.
Michael Cullen, or Speedo Mick as he has come to be known, is currently in the midst of his journey which will take him approximately seven weeks to complete.
Mr Cullen is undertaking his challenge during one of the coldest points in the year, battling sub-zero temperatures on his 1,000-mile journey as he aims to meet his desired £50,000 target.
The brave walker, an Everton FC fan, yesterday navigated Lochaber from Spean Bridge to Glencoe as he departs on his journey south.
Mr Cullen said: "The weather has of course been the most challenging aspect as it has been incredibly cold but the generosity that people have shown me has been incredible.
"I have had people stop to give me toffees, to put me up for a night to even charging my phone. I have been shown loads of love."
The hardy fundraiser is aiming to aid community projects set out for disadvantaged young people in the hope that communities will come together to overcome isolation and create new opportunities.
Mr Cullen added: "I want to do this for these kids because that's where I was with nowhere to go and nowhere to escape to.
"I want to make sure kids don't make the wrong decisions but if they do, they can turn it around and take a different road."
Mr Cullen will continue walking throughout the festive period – even on Christmas and New Year's day – and is asking people to join him for a mile during walks through towns and cities.
So far, Mr Cullen has raised in excess of £16,500 with donations possible through a dedicated GoFundMe page.
He departs today with the aim of reaching Bridge of Orchy.