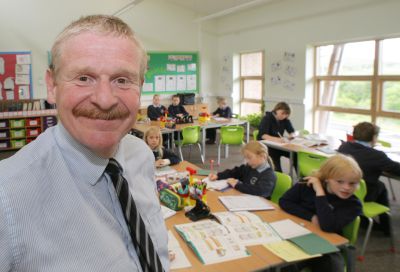 The head teacher of a tiny school in the Highlands has been made an MBE just months after the primary became the first in the region to be rated "excellent" by inspectors.
Keith Adams, who teaches at Lochaline Primary School in Morvern alongside his wife Susan, was honoured for his services to education and to the community.
Having previously taught in Wales and England, the 59-year-old took up the post at Lochaline in 2003, the year that a new £3.2million school building opened.
The Scottish Fire and Rescue Service contributed £300,000 towards the facility so that local retained firefighters could also be based there.
It means that Mr Adams has two jobs at the site, because he is not only the school's head teacher, but has also served as a retained firefighter for the last decade.
"It's like every community in Scotland, you don't just have one job, you need to have more than one job, otherwise the community doesn't tick over," he said last night.
Originally from north Wales, Mr Adams has been teaching for 36 years, and previously served in the RAF.
His MBE has been confirmed just a few months after Lochaline Primary became the first school in Highland, and only the seventh in Scotland, to be rated "excellent" by Education Scotland.
The school has a roll of just 16, with Mrs Adams teaching the younger pupils, and her husband teaching the P4 to P7 class.
Asked about the Education Scotland report, Mr Adams put it down to one thing.
"Teamwork. We work as a dedicated team. We work together as a team in the best interests of the children," he said. "It's the heart of the community in some ways."
When he was first informed of the honour last month, Mr Adams did not know whether it was genuine.
He said: "It's a strange one. It's like you've had a present there but you haven't been able to open it. It's a real strange one.
"I thought it was a joke to be honest with you. I just filled it all in and sent it away and thought it can't be real, and just kept my head down waiting for the joker to appear."