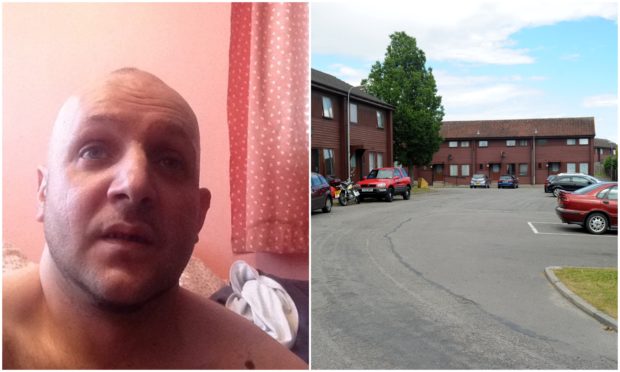 The use of a Taser on a Highland man during a police stand-off was "necessary" and "proportionate", an investigation has found.
John McDonald, 41, had been acting aggressively towards armed officers and had set fire to his home in Balintore, Easter Ross on August 1 last year.
Police attended his home in Parkland Place at around 6pm after getting a call that he was drunk and had threatened someone with violence.
McDonald, who has mental health problems, had been involved in a similar disturbance two weeks earlier.
A report published today by the Police Investigation and Review Commissioneer (Pirc) said he was hostile towards police, smashed a window and threw numerous items, including a golf club, at the officers.
After McDonald set fire to his own property, officers decided to enter his home to arrest him.
Easter Ross man who threatened to torch his house during armed siege jailed for 27 months
He then threw other items at police, including a television, a dart and garden shears, before he was found in an upstairs bedroom.
Officers pointed a conventional gun and a Taser at him but he failed to follow instructions to show his hands.
An officer then discharged the Taser and McDonald fell to the floor.
The investigation by Pirc into the circumstances was submitted to Police Scotland in October and published today following McDonald's recent conviction.
In the report, the commissioner concluded: "When the man set a fire within the house, the decision of the authorised firearms officers to enter using emergency powers was necessary and proportionate.
"Following the man failing to comply with instructions to show his hands, to ensure he was not in possession of a weapon, the use of Taser to bring the incident to a rapid conclusion was necessary and proportionate."
The two sieges at Parkland Place last year lasted a total of nine hours and involved 29 police officers, as well as four fire crews and three ambulances.
The use of Taser to bring the incident to a rapid conclusion was necessary and proportionate.
McDonald was jailed for 27 months at Inverness Sheriff Court last week.
His defence solicitor Shahid Latif said the explanation for his behaviour lay "in a traumatic event which befell him at the age of five which has left a lasting legacy and low esteem".
"He fills the void by the use of alcohol," Latif added.
"Much of his adult life has been spent in an alcoholic fugue and although he will be deprived of that in prison, he will not get the psychological help he needs."
Police Scotland has welcomed Pirc's findings.
Head of specialist services, Chief Superintendent Louise Skelton said: "On a daily basis, officers are attending volatile and violent incidents and the use of force to resolve these matters will be carefully considered, and only used when absolutely necessary.
"The professional response to this volatile situation has ensured that the man involved did not come to any harm and he could not put the public or officers at further risk."