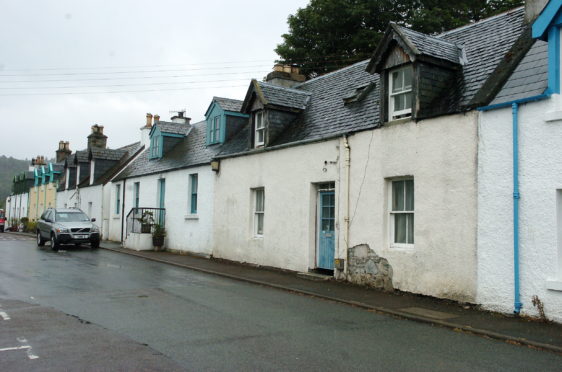 Residents have saved the last remaining council house in a picturesque village made famous by TV series Hamish Macbeth from becoming another holiday home.
Locals fought to prevent Highland Council from selling the three-bedroom property in Plockton in Wester Ross.
The property at 14 Harbour Street became vacant in the summer after the last tenant of more than 30 years moved into a care home.
Plockton Community Council say half of the 80 homes in the centre of the village are now either second homes or available for letting.
Now it has heard that Highland Council will retain the property.
"The vibrant young population are on the outskirts of the village – they can't afford to be in the centre," said campaigner Mary Jane Campbell, who is also former chairman of the community council.
"This was the last council house in the centre of the village, though there is some social housing on the outskirts.
"We are delighted that Highland Council will retain it, but it will need some work and money spent on it to do it up to an acceptable standard. It is still empty. The problem is so many homes in places like ours end up as Airbnb or holiday homes. It is not just Plockton that has this problem."
She added: "Previously 13 Harbour Street was sold for £380,000 and number 16 went for £360,000 four years ago.
Not many young people can afford those prices on the wages up here.
"The trouble is homes are being bought in Plockton for commercial reasons – it is such an attractive village.
"We had heard that the council planned to sell it, but we have now been told they will keep it. There must be a suitable family on the waiting list who will make good use of it."
A Highland Council spokesman said: "The council is currently considering the options for bringing this property back into use to meet local housing needs.
"We have made a commitment to discuss the property in more detail with community representatives as soon as we can."
Plockton was where Hamish Macbeth, starring Robert Carlyle as the TV policeman, was made between 1995 and 1997.
The village also featured as one of the locations for cult horror film The Wicker Man and TV series The Inspector Alleyn Mysteries.