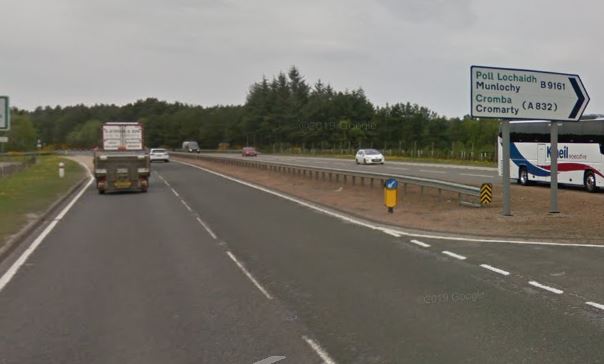 An urgent summit must be held to prevent further loss of lives on the Black Isle's roads, the Scottish Government has been told.
Local campaigners are seeking talks and the introduction of enhanced road safety measures following a string of serious and fatal accidents.
The A9's now notorious Munlochy junction has been identified as a key target for improvement following a devastating crash last month in which a 16-year-old boy died.
Gregor McIntosh was killed in the three-vehicle collision on the route on Friday, December 20.
The teenager was a passenger in a red Vauxhall Corsa when it collided with two other vehicles on the Inverness to Thurso road at the junction.
The 50-year-old driver of a Stagecoach bus was killed in the same area in January last year as it struck a bridge and overturned.
And in July last year, a motorcyclist was taken to hospital with serious injuries after colliding with a tourist camper van around five miles north, on the A9 near Culbokie.
In late of the accidents, Kate Forbes MSP said she is seeking a road safety summit with representatives of the local community and Transport Scotland.
Ms Forbes said: "I think it is time for all community representatives on the Black Isle to meet and discuss road safety.
"There have been far too many accidents in recent months and years."
John Stott, chairman of Knockbain Community Council, said he is open to creating a working group, adding he too believes it is time to "get it sorted".
Mr Stott said: "Anything we can do to alleviate the chances of somebody making a mistake must be welcomed.
"It took three kids sadly losing their lives at the North Kessock junction around 15 years ago before anybody sat up and listened and made changes.
"The reality is a young life has been lost and the Munlochy junction was the focal point of that, so it is time to get something done before anything else happens."
Mr Stott has recommended turn-offs be blocked along the dual carriageway between the Kessock Bridge and Tore.
He added: "Most people have been on board.
"Some have called it a kneejerk reaction to what occurred here, but if that kneejerk reaction saves a life then I am content with that.
"It is a fast bit of road and Tore roundabout isn't a million miles up the road.
"It may be seen as an inconvenience at first but that will very quickly pass."
Knockbain Community Council will raise issues regarding the junction at its meeting this evening.
It is is the first opportunity they have had to discuss the accident blackspot since Mr McIntosh's death.
A Transport Scotland spokesman said: "Our thoughts remain with the family and friends of Gregor McIntosh following this devastating accident.
"As part of standard policy after such accidents, our officials will be meeting with representatives of Police Scotland and Bear Scotland, to obtain more detailed information on the circumstances surrounding it.
"As police investigations into the fatal accident at Munlochy last month are ongoing it would be inappropriate to comment further at this time."
He added that correspondence will be issued to Ms Forbes soon over the possibility of holding a summit.