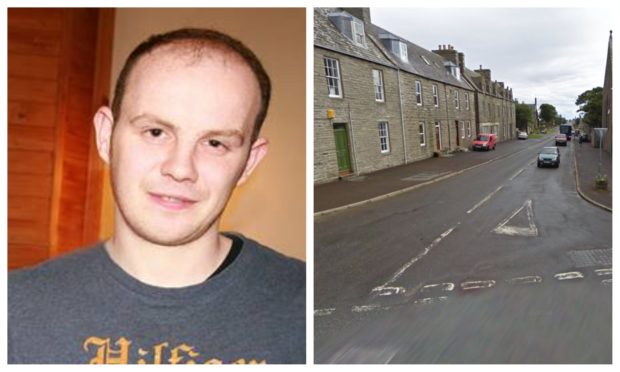 The appearance of more than a dozen detectives knocking on doors in the Caithness village of Lybster today will be a welcome sight for the family of Stefan Sutherland.
For more than six years they have hoped and campaigned for a full investigation into the circumstances that led to the 25-year-old's death in September 2013.
Parents Sandy and Sandra Sutherland demanded an investigation into their son's death at a meeting with police last July and in October, they got their wish.
Since then, it has emerged that at least 10 witnesses who could have shed light on Stefan's death were never interviewed.
Detective Superintendent Graeme Mackie, who is leading Police Scotland's review into the case, announced today a team of 15 officers will carry out door-to-door inquiries in Lybster and the nearby village of Latheronwheel.
He said: "Anyone with information about Stefan's death is asked to please come forward and speak to officers.
"Stefan was well-known in the local community and I would also encourage those who saw him between 10pm on September 6 2013, and 12pm on Tuesday, September 17 2013 to contact us."
Here is a timeline of events in the case and what we know about the investigation so far.
September 6, 2013
The date of the last-reported sighting of Stefan Sutherland. His disappearance is reported to police and a large-scale search is launched.
September 17
On the morning of September 17 2013, the day Stefan's body was found, his mother Sandra is quoted in the Press and Journal.
She said: "We are absolutely devastated. It doesn't seem possible to me that someone can just vanish into thin air in such a small place.
"It's totally out of character and we are all very, very worried. Someone must know something and we would ask them to come forward with any information."
Sandra added that her son was last seen entering a house in Shelligoe Road, Lybster, late on the day he went missing.
Sniffer dogs and friends of Stefan had joined the hunt for the Caithness man, but the search ends in tragedy when a body is discovered on a shoreline at Occumster, near his home, at 12.15pm by a member of the public.
September 18
Stefan's distraught mother Sandra criticises the police for failing to inform the family of the discovery more quickly – as she reveals she heard the news from a customer in a local shop.
She said: "My son was found dead. The officers promised to keep me updated.
"We heard in the local shop. There was no word from the police.
"We were told a member of the public found his body.
"The police officers told us we would be the point of contact, but there was no sign of them. Is this how the police should behave?"
Police responded by saying they could not yet confirm the body was Stefan Sutherland as it had yet to be identified. The death was being treated as "unexplained".
A spokeswoman added: "As soon as we were notified that a body had been found, officers attended at the location and, as soon as the report was confirmed, we notified the family."
Tributes were left for Stefan on social networking sites, including from his brother and teammates at his football team Helmsdale United.
His brother Sandy, who attended Wick High School but had moved to Calgary, Canada, thanked everyone involved in the search.
He said: "Stefan found today unfortunately not alive – just wanted to let you all know and thank you for the effort to find him."
Angus Flett, who played alongside Stefan for Helmsdale United, said: "It's been such a privilege and a honour to have been able to play beside one of the biggest and dedicated characters I've ever known in football and proud to have been able to call him a friend.
"RIP Stefan pal."
September 23
Police confirm the body that was found on the shoreline at Occumster was Stefan's.
A spokesman said: "The matter is not believed to be suspicious at this time."
Stefan's funeral takes place at the Church of Scotland, Lybster, the following day.
January 2014
Police and forensic investigators are spotted at a house in Shelligoe Road, where Stefan was last seen alive.
Stefan's sister Katrina tells the Press and Journal that she does not believe her brother died as a result of an accident or suicide.
She said: "There are lots of other possibilities. I do believe the police are being very thorough and I believe they are working hard to find out what happened to Stefan.
"People are always telling us things, and we make a note of it and pass it on to the police to go and investigate.
"The community has been a great support to the family. The community is 100% behind us in trying to find out what happened to Stefan that night."
Police say they are carrying out "further inquiries".
February 2014
Police issue a fresh appeal for information about Stefan's death, more than four months after his body was found, and ahead of what would have been his 26th birthday.
A spokesman said: "Significant inquiries have been carried out in relation to the death of Stefan Sutherland and many people have given information about the circumstances which led up to him being traced and we thank the public for that assistance.
"Police are still keen to hear from anyone who we have not yet spoken to and who might be able to help us and Stefan's family understand fully what happened.
"Stefan would have celebrated his birthday in February and the police would ask anyone who has information and who has not yet contacted us to think of his family at this difficult time."
January 2016
Stefan's family break their silence and go public with their belief that the 25-year-old was murdered.
Given his injuries, his family accept he had been at sea for days – but insist his broken skull, broken leg and the fact his front teeth had been knocked out and joints of his fingers pulled apart suggest a brutal beating.
Stefan's father, Sandy senior, said: "There is abundant evidence that our son was murdered. He did not pull his own fingers apart at the joints or knock his own teeth out.
"He did not fall or jump from the cliffs and then walk into the sea."
The family also reveal they had pushed the police to investigate various tip-offs from the community, which eventually led to a bloodstain matching Stefan's DNA being found in a house he was seen at on the night he disappeared, on September 6 2013.
Three pathologists – two instructed by the procurator fiscal and one by the family's lawyer – reached varying conclusions.
The first, who carried out a post-mortem examination, said that as Stefan had no water in his lungs, he had not drowned and must have entered the water dead. The second, disagreed and said there had been water present.
Neither suggested foul play, whereas the Sutherland's pathologist did – after finding a hole in Stefan's skull.
Police Scotland and the Crown Office maintained there were no suspicious circumstances surrounding the death, and that no evidence had emerged that warranted taking action against anyone.
Stefan's mother Sandra added: "For over two years now I have been haunted by how my son might have died and how he sustained the horrific injuries that prevented us from identifying his body.
"It is hard to adjust to the fact that we will never see Stefan again. He was so alive, energetic, enthusiastic. Now we just have memories."
Stefan's girlfriend Catherine Georgeson remained close to the family and supported their campaign.
"I think everyone has a good idea that Stefan was killed," she said, "but the police just don't seem to want to know".
A police spokesman said at the time: "Police Scotland can confirm following a thorough investigation, there were no suspicious circumstances and as with all sudden deaths a report was sent to the procurator fiscal."
A spokesman for the Crown Office added: "Comprehensive and thorough investigations have been carried out into the death and no suspicious circumstances have been found."
July 2019
Police agree to meet Stefan's family after further calls for an external review – following a decision for Kevin Mcleod's case to be probed by Merseyside Police.
Kevin's death at Wick Harbour in 1997 has left his family similarly longing for answers.
They have been critical of how his death was dealt with in the past and why the former Northern Constabulary did not investigate the case as a murder as instructed by a Crown official will form part of a "detailed review" by Merseyside Police.
Stefan's father Sandy said: "It is great that Kevin's death is finally being reviewed externally.
"That is what we want for our son Stefan, whose death we also believe to be murder. It would be logical to have Stefan's case afforded the same treatment and investigated by an outside force."
Kevin McLeod's parents, Hugh and June, said: "We support and wish Stefan's family all the best in their campaign."
Detective Superintendent Colin Carey said: "We can confirm following a thorough investigation into the death of Stefan Sutherland there were no suspicious circumstances and as with all sudden deaths a report was sent to the procurator fiscal.
"Further information since the investigation has been subject to thorough review and all findings have been shared with the Crown Office and Procurator Fiscal Service.
"We will continue to review any information which is reported."
September 6
Stefan's family meet police officers on the sixth anniversary of his disappearance, but demand more answers and another meeting is arranged.
October 1
Police announce they are launching a cold case review into Stefan's death.
Parents Sandy and Sandra had been seeking an external investigation but they have been assured by senior detectives that a new probe will be conducted by officers with "no prior involvement in the case" and "expertise in reviewing investigations".
Stefan's sister Katrina said: "A new review to be carried out by the specialist crime division with no prior involvement in the case is welcomed. It is progress in finding out the truth.
"The officers felt exhumation of Stefan's body may be a bit premature and said to allow them time to look at existing materials and evidence and see where that takes them."
After the emotional meeting, Detective Superintendent Graeme Mackie said:  "All aspects of the investigation will be looked at.
"I would stress once more that we will act on any new information reported to us in connection with Stefan's death."
December 16
Stefan's sister Katrina reveals that police have told the family that at least 10 people could have shed light on the case but were never interviewed.
She told the Press and Journal: "We are not really surprised that there are 10 witnesses who were never spoken to. We never thought the investigation was done properly.
"We have no idea who these people are. The police won't divulge this to us.
"Over the last six years, relatives have collected quite a lot of information themselves. If we give them that they have got a lot more comprehensive information to work on.
"Police are still in the process of collecting the information. They are hoping relatives will add more to that before they go out and question the public.
"This is encouraging. It is what we have been hoping for and campaigning for. We hope this time they will do a thorough, proper and robust investigation."
A re-examination of all the evidence is ongoing.
The team of six, led by Detective Superintendent Graeme Mackie, will report to senior officers for a decision on a further investigation and a possible murder inquiry.
January 21, 2020
A team of 15 officers investigating the case begin door-to-door inquiries in Lybster and nearby Latheronwheel.
Detective Superintendent Graeme Mackie said: "We are keen to establish if local residents or anyone who may have visited the area between September 6 2013 and September 17 2013 have information which may assist our inquiry."
Anyone with information who lives outwith Lybster and Latheronwheel can contact Police Scotland on 101 and request information to be passed to Operation Husten or email SCDHolmesDundee@scotland.pnn.police.uk.