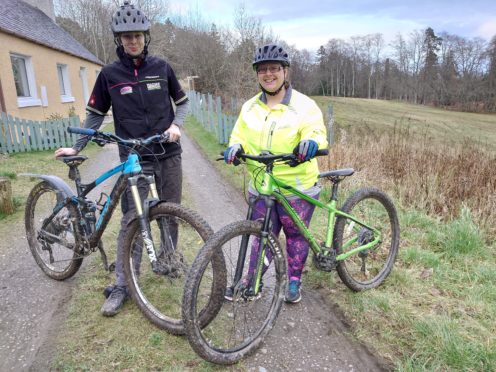 Two Highland siblings are preparing to cycle 164 miles in under 24 hours as a heartfelt token of thanks to two lifeline services for helping care for their young children.
James Robertson, 30, and Lesley-Anne Robertson, 34, set themselves the challenge of cycling from Milngavie in Glasgow to Inverness in June as a personal fitness target.
Looking ahead to the challenge, Mr Robertson who has competed solo in the Strathpuffer, said he knows the mental strain a challenge like this poses.
He added: "Mental fatigue is the biggest challenge. Having done the Strathpuffer solo on two occasions, I know only too well the mental wall that we will hit at some point."
His sister Lesley-Anne said: "Staying upright and the mental challenge of keeping going" were going to be the major challenges for her.
The pair from Evanton have now set up a crowdfunding appeal to help raise £2,000  in support of two worthwhile causes, the Highland Heartbeat Centre and the Special Care Baby Unit at Raigmore Hospital.
Working as a lead cardiac physio for the Highlands, Ms Robertson knows only too well the benefits the Heartbeat Centre brings to patients, but recognises the funding constraints they face.
Meanwhile, the Highland parents know first-hand the challenges experienced by the SCBU service, after their children were admitted for specialist care.
Mr Robertson's sons Lucian, five, and four-month-old Blaine have both required care by SCBU following their births at Raigmore Hospital, while Lesley-Anne's son Ruaridh, eight, was also cared for by similar specialist medical teams down south.
Mr Robertson added: "These units are absolutely essential. The level of care that they provide is second to none.
"I can honestly say our kids would've had serious problems if these units didn't exist."