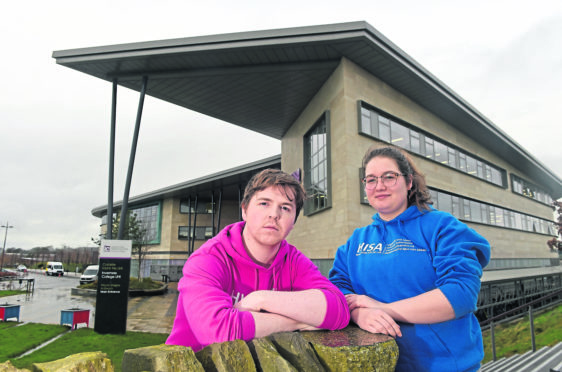 Students in the north have called for "radical change" in the way the University of the Highlands and Islands is structured – warning there will be more job losses and cuts if nothing is done.
Highlands and Islands Students Association (HISA) has raised concerns after representatives voted overwhelmingly for change.
Currently, they claim, some administrative and operational tasks are done separately up to 14 times – once by each college across the university.
Hisa's Vice President of Higher Education, Andrew Bowie, said: "At a time of financial crisis for all of the colleges and universities of Scotland, it is clear that UHI cannot continue to duplicate processes, press on with ineffective communications, and ridiculous bureaucracy."
He said "outstanding" academic and support staff are under threat of job loss, calling on UHI to act to provide "much-needed job security", adding that inaction is threatening the future of the entire partnership.
He added: "Continuing with the status quo can only lead to further cuts, job losses, and an infinitely worse student experience.
"The scale of the financial worries that we now face, and the threat that they pose to the experience of our students, demands that UHI takes urgent and bold steps to reduce duplication, create much needed financial efficiencies, and safeguard the student experience that they very clearly cherish."
Hisa elected officer Flo Jansen, of Lews Castle College in Stornoway, said job losses would make students degrees and qualifications "almost seem worthless".
She said: "We raised concerns two years ago about the financial worries but nothing has changed.
"It has created an unnecessary fear that is not needed."
Hisa admitted not all colleges could implement the changes, with specialist colleges at Sabhal Mor Ostaig on Skye, the Scottish Association for Marine Science facility in Argyll and the Highland Theological College in Dingwall presenting their own challenges.
In response, a UHI spokeswoman welcomed the concerns from Hisa, adding that UHI supports "their imperative to take 'urgent and bold steps'."
She added that UHI is aware of the challenges ahead and around 100 delegates of staff, students, governance groups and executive teams are involved in talks which are "actively progressing" to serve UHI's educational facilities and their communities.
The make-up of UHI
The make-up of the University of the Highlands and Islands (UHI) structure is unique as it incorporates a vast number of colleges, research and specialist centres, alongside more than 70 local learning centres and online resources.
It is classed as a tertiary institution – the only of its kind in Scotland – and one of only a few in Europe.
The education body offers higher and further education at its institutions, which stand as separate legal entities and employ their own staff and assets to meet the needs of its students.
UHI currently operates 13 colleges across rural Scotland spanning from Argyll College UHI in Dunoon, Moray College UHI in Elgin and Shetland College UHI in Lerwick.
Specialist colleges are also included in the makeup, with dedicated Gaelic college Sabhal Mor Ostaig, the Scottish Association for Marine Science facility and the Highland Theological College all part of the setup.
With approximately 40,000 students, UHI boasts that it designs its curriculum portfolio to meet future local and regional needs and to attract students to studying in the Highlands and Islands.
UHI's make up has also been designed to provide the same educational pathways and learning experiences for all, ranging from well-qualified school leavers to students who have been excluded from further education and higher education due to their location or social circumstances.