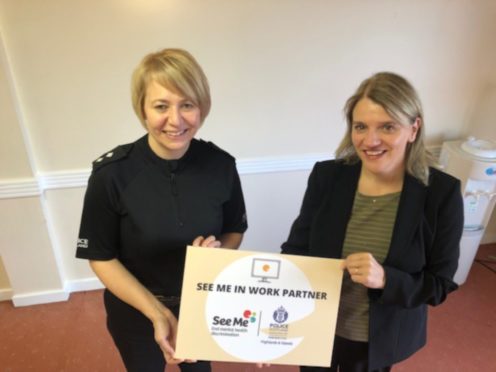 Police officers in the Highlands and islands are to benefit from a new mental health and wellbeing scheme as they join forces with See Me.
See Me was launched in Scotland in an effort to tackle mental health stigma and discrimination.
It's estimated one in four people will experience mental illness at some point in their lifetime.
It has been noted pressures at work, home and social factors can possibly leading to unhealthy levels of stress, adversely impacting a person's mental health.
Inspector Judy Hill said: "The funding from Police Care UK gives us the opportunity to really tackle the issues around mental health stigma and discrimination, enabling us to lead the way in ensuring that, as an employer, our workplace is a mentally healthy one.
"We know that working as a police officer involves trauma as a core part of the job, but we also acknowledge that we must support our officers and staff to ensure they are mentally well and able to continue to provide a high level of service and response in our communities, both now and in the future."
The force previously enrolled in the See Me in Work programme in 2018, becoming the first organisation in the country to oversee the delivery of the action plan.
Funding for the force's new mental health scheme has been provided by Police Care UK's 1in4 Fund and will cater for the employment of a project officer to oversee the delivery of the workplace action plans across the division.
Interim director of See Me, Wendy Halliday, said: "We're delighted to be partnering with Police Scotland – Highland and Islands Division to tackle stigma and discrimination with such a major employer.
"They are the first employer in Scotland to bring in a new member of staff to specifically work with us on delivering their action plan to tackle stigma.
"It's great to see them getting involved in Time to Talk day as well, showing that we can all talk about mental health."