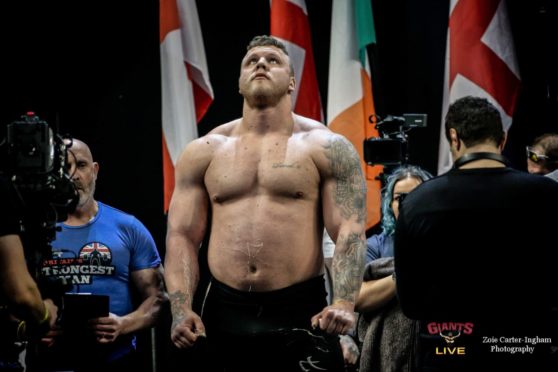 Scotland's strongest man has opened up about his battle with autism and how negativity has driven his success.
Tom Stoltman grew up in Invergordon, and was diagnosed with autism at the age of five.
But the 25-year-old kept it a secret from his classmates until he went to secondary school, shying away from situations he found difficult to handle.
He said: "I kept it secret until I was 13/14 and when I went to academy, I told everyone then. Through childhood and primary school was hard, very hard.
"I wasn't able to go out in public, wasn't able to talk to people and being in crowds was a no go – I just used to isolate myself thinking it was normal."
By 17, Mr Stoltman had started going to the gym alongside his older brother and five times Scotland's Strongest Man champion Luke, 35, as they vowed to compete together.
He explained: "I didn't have a clue what Strongman was until I was 16/17. I played football until I was 16 and it was my brother that got me into the weights, got me into the gym and Strongman.
"He is 10 years older than me, so when he started competing is when I started going to gym. I could see how good he was and I just thought I would give it a go and see what happens."
Following six months of gruelling training, he entered his first competition aged just 18, securing fourth place in Scotland.
The bodybuilding champion has now gone onto have worldwide success, claiming the title of Scotland's Strongest man three times.
He also set a new world record in the Castle Stones at Britain's Strongest Man last month, placing the five 180kg stones in 16.01 seconds.
Mr Stoltman, known as The Albatros, admits it is through competing that he has found his inner confidence and the ability to push through life's challenges to succeed.
He said: "You are in the limelight. You can't hide anywhere. During my first competition I had to be interviewed and I put my head down because I didn't know what to do.
"I used to not be able to handle the pressure but now I just use it for adrenaline and motivation. I love people saying you can't do things as well because it drives me to do it."
The Stoltman brothers are now preparing to compete at Europe's Strongest Man in April ahead of World's Strongest Man in Florida.
He said he is proud to represent the Stoltman name, "in the best way possible."
"I'm 25 so for me to have done what I have done at this age is kind of out of the ordinary – especially being from the Highlands," he added.
"When I started the sport, I just thought I will do it for a year or two and see how far I can get and the last two years have been massive. My profile has gone up and its just blown up. I'm lucky to be in the position I am in now."