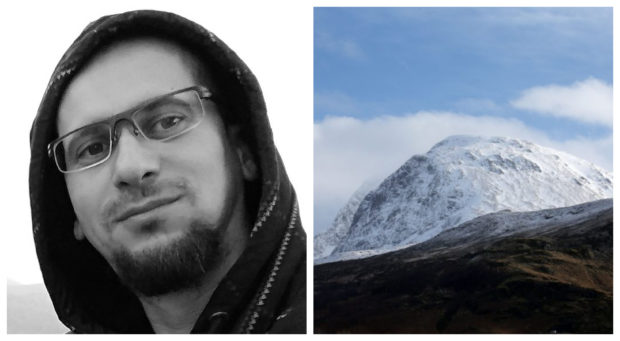 A major mountain rescue operation has been launched on Ben Nevis for a man who was last seen on Thursday morning.
The Lochaber Mountain Rescue Team has dispatched 27 team members, along with 12 other rescuers from other organisations, to search for Tomas Gafrik from Slovakia.
The 40-year-old arrived in Scotland on Tuesday and contacted his family on Thursday. Police said he sent images "which indicated he had spent the previous night near the Halfway Lochan on Ben Nevis and intended to continue to the summit that day".
He also posted a short video of himself on social media just above the Half Way Lochan.
He has been out of contact since then and has now been reported missing.
Stormy weather has swept across the country over the weekend, and are forecast to continue into next week.
Rescuers have asked anyone who has seen the 40-year-old to phone the police immediately on 101.
In an online statement, the Lochaber Mountain Rescue Team said: "His intention after going up Ben Nevis was to visit the 'fjords' in this area, so we need to check fi he has been seen in case the search on the Ben is a wild goose chase.
"The forecast on Ben Nevis for tomorrow, Monday February 24, is for 50 to 80mph winds with extensive heavy snow which will make any search around summits extremely difficult."
Sergeant Michael Bell of Fort William Police Station said: "Tomas has not been in contact with his family since Thursday and we are growing increasingly concerned for him.
"I would ask anyone who may have seen him at any time since he arrived in Scotland on Tuesday, whether that is on Ben Nevis or elsewhere to let us know as soon as possible.
"If you can help please call 101, quoting incident 2681 of 23 February."
Mr Gafrik is described as being 6ft 1in and of medium build with short brown hair.
He is believed to have been wearing a grey jacket and carrying a green and yellow rucksack.
The Lochaber team has launched a number of large-scale searches on Ben Nevis over the past few weekends, which have also been carried out in severe weather.
On February 10, 22 courageous rescuers went out to rescue four walkers who were found in -20c blizzard conditions with no maps, ice axes or crampons – and three of them were wearing trainers.