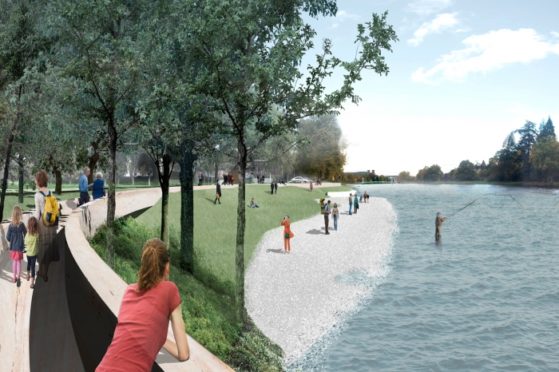 Highland Council's controversial river art work My Ness, otherwise known as The Gathering Place, or 'the wall', is to go ahead after a funding bail-out by Creative Scotland.
The project, consisting of two curved sections of wall on opposing river banks near the Fisherman's Hut, foundered when opposition councillors pointed out the lack of disability access to the art work.
Adapting the project to meet legal accessibility requirements was costed at more than £32,000.
By halting another riverside art project, the children's water feature, the council found funds to meet the cost, with a £5,000 shortfall now to be met by Creative Scotland, major backers of the total £750,000 river art project.
The Inverness City Arts working group has now agreed that construction can go ahead.
The  council says the next phase will involve "giving close care and attention to the natural environment".
An ecological assessment will be undertaken, alongside liaison with the Ness District Fisheries Board.
A council spokesman said: "The project team are also working closely with the council's tree officer to ensure that all necessary precautions are taken to protect the local environment.
"One mature tree is to be removed located adjacent to the Fisherman's Hut and one on the opposing riverbank.
"The tree that is adjacent to the Fisherman's Hut is in a poor condition and is being removed under a general tree management plan for the area.
"Otherwise, site clearance work will involve the clearance of undergrowth and shrubs."
Pressure group OpenNess has raised many objections to the Gathering Place, and questioned the transparency of the council's decision-making process.
The group raised a petition with almost 3,000 signatures against the project and has campaigned vigorously at every stage, including recently tying black ribbons on trees to be felled for the project.
Yesterday, group spokesman Helen Smith said: "Huge management and development fees have been run up for this budget.
"Why did no-one else notice that it would be difficult for a wheelchair user to make a 90 degree turn onto the structure from the path which is now being provided?"
Councillor Isabelle Mackenzie said: "We wish to thank Creative Scotland who have been fully supportive of the River Ness art project throughout.
"We are also hugely appreciative of the Highland Council project team for getting us to this final stage and look forward to seeing work start on the installation which is for use by members of the public when enjoying our beautiful riverscape."
The council has also announced that consents are in place to site the Rest Space art project, originally destined for the banks of the Ness, in the new parkland area  at Torvean, and installation will begin in the coming months.