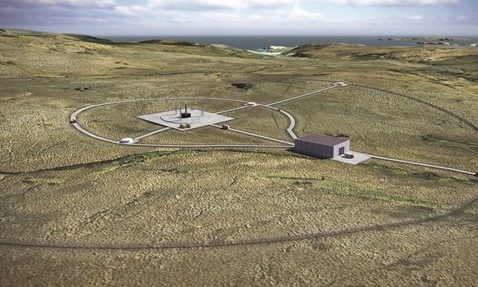 Multi-million pound plans to build Europe's first rocket-launching spaceport in Sutherland were handed a massive boost yesterday with firm backing from a powerful business body.
But a company with land on a neighbouring estate – owned by Danish billionaire Anders Holch Povlsen – has lodged a "holding objection" to the plan.
Highlands and Islands Enterprise's (HIE) contentious £17.3 project – which they claim will create 250 jobs across the region – has won support from the Scottish Council for Development and Industry (SCDI).
SCDI's Inverness-based regional director Fraser Grieve said: "Planning proposals that can have such a lasting positive impact do not come along often and I hope that we will grasp this opportunity."
HIE lodged a planning application for the development on the A'Mhoine peninsula with Highland Council earlier this month.
In a letter of support for the project to council planners, Mr Grieve said: "The UK has long been a leader in the development of space technology, and as technological developments advanced, there is this opportunity to establish our own vertical launch facility to grow the UK space sector and capture more of the economic benefit, whilst owning any environmental impact.
"The site at Tongue has been identified as an ideal location to establish a vertical launch space port given its unobstructed northern trajectory.
"The opportunity to base such a facility in Sutherland gives the Highlands and Islands the chance to be the home of this pioneering sector and capitalise on the opportunities it offers."
Mr Grieve said they recognise that the proposed site overlaps peatland areas and that there will be some environmental costs as a result of any development, but said these "need to be balanced" with economic considerations.
He added: "There is an increasing need to look at how we deliver satellites into orbit in a more sustainable way, as there will continue to be a global need for satellites for monitoring and communication.
"This site offers an opportunity for the Highlands and Islands to take ownership of this global issue, support the development of new technologies to bring down environmental impacts, and looks to support environmental and economic sustainability."
Meanwhile, Wildland Ltd , owned by Anders Holch Povlsen – has submitted a "holding objection" to the spaceport, claiming it would have a "significant adverse effect on their interests" as neighbouring landowner.
It adds: "The holding objection arises directly from the proposed location of the project. There is no specific allocation/provision for this project in terms of national or local planning policy. The initial view is that the proposal is not in accordance with the Development Plan."