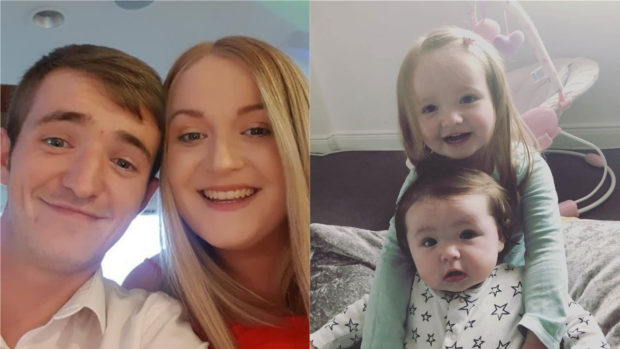 City residents have come together to replace cash donations collected in memory of an Inverness family of four killed in a horror smash on the A82 after they were stolen from the counter of a local delicatessen.
Rhys Cousin, 25, his wife Gemma, 26, and their young daughters Peyton, 3, and one-year-old Heidi all died in a collision on the A82 near Torlundy in Lochaber on February 20.
The family were travelling on the A82 Fort William to Inverness trunk road in a green Mini Cooper when it collided with a red Ford Fiesta. They died at the scene.
Owners of the Heavenly Deli on Grant Street in Inverness decided to collect donations in support of their grieving family, to help towards the cost of the funeral.
After serving her last customer of the day on Thursday, Izabela Szczepanska, who runs the family business with her husband Rafal, noticed the box was gone.
Speaking of her devastation she said: "It's such a tragedy for a whole family to die in a car accident. I had a similar experience in my family as well.
"We decided that on top of putting someone money forward ourselves, we would forward any of the donated money to the family.
She added: "We work hard in trying to make ends meet and it is not easy having your own business. We are trying to put back into the community as much as we can. We are trying to be involved but when something like that happens it destroys you a little."
Members of the community have now began re-donating money to the Deli help replace the cash they lost.
Mrs Szczepanska added: "We would really like to thank the community for their messages of support, for their donations and for the amount of money which was collected."
Local councillor Bet McAllister said: "I am absolutely horrified. Nothing like this should happen, no matter who the money is for. It's horrible the whole family has died and someone is trying to help the family and give them a good burial.
"If anyone in the Merkinch area knows anything or has heard anything, I would encourage them to phone the police."
A touching tribute was made when announcing the funeral of the much-loved family, which will take place on Thursday at noon at William T Fraser and Son at the city's Culduthel Road.
It stated: "The saddest of funerals to say goodbye."
It added: "Due to a devastating car crash near Fort William in atrocious weather, on their way home, Rhys, Gemma, Peyton and Heidi tragically lost their young lives. Ever so treasured and loved."
After the funeral the family will be laid to rest together at Kilvean Cemetery in Inverness.
Donations given will be shared among the emergency services.