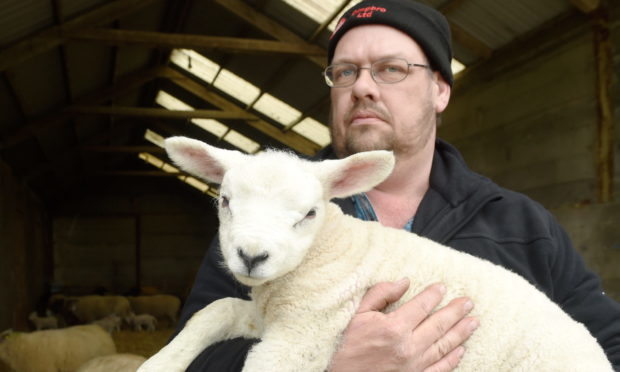 A farmer has spoken of his anger and upset after a number of sheep were savagely attacked by a dog.
Farmer Alan Duncan discovered one of his sheep pinned down and under attack.
He was able to scare the dog off  – but did not see any people around who the dog could have belonged to.
He later established that three of his flock had sustained extensive injuries.
One of the sheep targeted was a heavily pregnant ewe with the incident causing great distress and potential implications for the birthing of lambs, as well as financial implications for the farmer.
They have since been treated with Mr Duncan hopeful the stress of the situation will not have any repercussions during the upcoming lambing season.
Mr Duncan is now pleading with dog owners in the area to be aware of their whereabouts at all times, or action may be required to protect his livestock.
He said: "It is annoying. There is so much of it going on.
"Of the three places I have, over the last six or seven years, this is the seventh incident of dogs coming in and chasing the sheep.
"People should be more aware of what prosecution and fine they could encounter if their dogs are loose.
"I would urge people to be a bit more aware. Keep an eye on your dog at all times and certainly not let it go.
"If it is away then come and check where it is.
"If we had not come home when we did then that dog would have certainly killed sheep, without a doubt."
It is thought the dog in question is an Alsatian or similar breed.
Mr Duncan has reported the incident to police.
A police spokeswoman said: "Police were called to a farm in the Inshes area of Inverness around 8.55pm on Sunday evening to reports of a sheep attacked by a dog.
"Inquiries into the incident are ongoing."
The incident coincides with a plea from Highlands and Islands MSP Donald Cameron as he urged dog owners to take "special care" as crofters and farmers prepare for the lambing season to avoid "heartbreaking consequences" of "uncontrolled dogs savaging lambs".
Mr Cameron said: "It is incumbent on dog-owners to ensure that their pets are fully under control when walking anywhere near livestock, particularly at this time of year.
"It is the owners' responsibility for their dogs' behaviour and they should remember that livestock worrying can be a criminal offence.
"I very much hope dog-owners take note and we have an incident-free season this year."