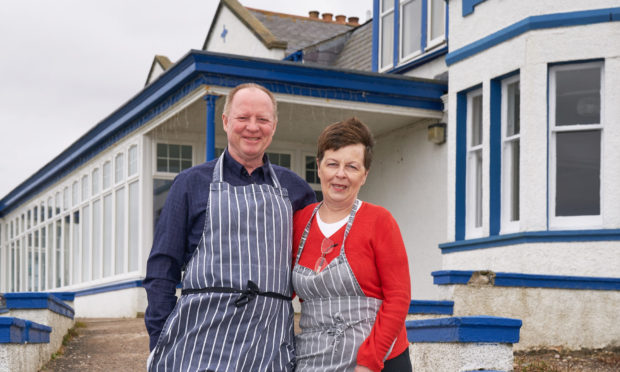 A Wick cafe will be supplying staff at Caithness General Hospital with fresh hot meals as communities around the north and north-east continue to rally together.
The Corner Cafe closed to customers last week, but following demand for food parcels from struggling residents, the family-run business reopened for deliveries.
And now owners Amalie and Richard Johnston will also be supplying hot fresh meals for staff at Caithness General as part of a new schemed funded by North Highland Construction Training Group.
Meanwhile Ian and Rena Watson, who own Cullen Bay Hotel, have launched a similiar serve for vulnerable members of the community.
Yesterday they were hard at work dropping off the meals, which will range from fish and chips, to stovies and of course, Cullen Skink.
The delivery and pick-up service is in operation across Cullen, Deskford and Portknockie.
Mr Watson said: "In times like this everyone has to help out and we're fortunate for the time being to be in a position to help.
"We got together with Cullen Connect which has volunteers who pick up the food and deliver it to the community.
"They know the community well and have helped us find people who need it as well as manning phones for people to order from.
"Around six drivers volunteer a day have taken out the meals. We did around 40 fish and chips for Sunday lunch so it's around 120 to 150 meals in the last week."
In Wick, Mrs Johnston is preparing for a busy week after the hospital delivery scheme was launched in just a matter of hours.
She said: "On Saturday, we were approached by the North Highland Construction Training Group and they said that they could put money in place to provide meals for hospital staff at Caithness General Hospital.
"I spoke to chairman Mike Hammerton on the phone and within hours the funding was in place. The efficiency and speed in which they put everything together and got the ball rolling was exceptional. I couldn't believe how quick it was."
Customers can still ring in with their own personal delivery requests, but the cafe team will be prioritising the hospital's needs.
Mrs Johnston added: "NHS staff are working long hours up there. I think the hospital has been all rearranged, things have been moved floors; there is a lot of work going on.
"It's turned out that we have been able to be a lot more useful than we thought by providing meals for hospital workers. We know a lot of them as they are customers of ours anyway and we know the work they are doing. It's great that we are able to provide meals."
Harbour Chip Shop and Henrietta's Chip Shop have also also offered their support by giving away free suppers to frontline staff.
Cullen Bay Hotel is also accepting food donations for their delivery service, with fishmonger Mark Innes and Bloomfield Farm Findochty already offering their support.
People in isolation can call 07549 040515 or e-mail help@cullenconnected.com to explain their situation and be added to the orders list.