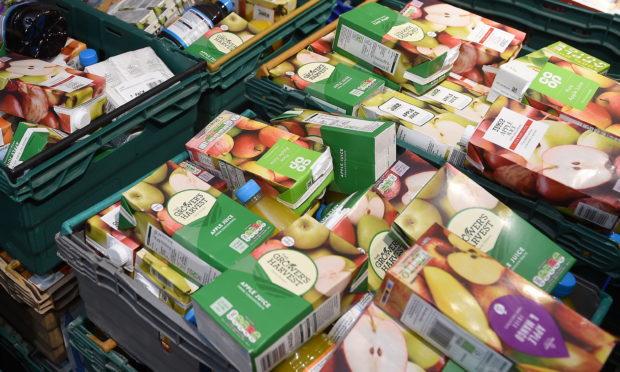 A food bank will be created in a Sutherland town after organisers received a funding boost from a new scheme designed to help communities through the coronavirus crisis.
The North Highland Initiative's (NHI) community support programme has been opened to small organisations providing education, conservation and community support in Caithness, Sutherland and Ross and Cromarty during pandemic.
Dornoch Firth Group, a collaboration between local groups, has been named as the first to be granted financial aid,
Charles Minall, an outreach worker with Dornoch Firth Group, said it will help "those who need it most",
He said: "Creating a food bank for Dornoch was something we had aimed to do for quite some time.
"Before this, the nearest food bank was in Tain, almost 10 miles away.
"Food was being donated in Dornoch, but donations were going to Tain, and people who needed to use it  couldn't always get to Tain.
"We want to make sure that there is no stigma attached to getting support.
"It's vital if you're facing financial difficulty, or if you're self-isolating or otherwise unable to get out and about.
"We're always here to help, and we're glad to see support going to those who need it most."
Mr Minall praised the team effort that has gone into creating the foodbank, with around 200 volunteers coming forward to assist in their work,
Their activities include delivering parcels and picking up prescriptions, and offering a friendly chat over the phone.
He added: "The response we've had already has really been phenomenal."
Food parcels are made up in the kitchen of the town's West Church Hall on Mondays and Wednesdays before being distributed on Tuesdays and Thursday.
After their first day of operation earlier this week, more than a dozen parcels were delivered around the Dornoch area.
David Whiteford, chairman of the North Highland Initiative, said: "Our programme is a means of financial help, aimed at communities that are experiencing particular hardship as a result of the ongoing coronavirus crisis.
"We welcome submissions from community projects."
Applications for the fund are open until April 30 with applicants having to demonstrate that their project has been established as a direct result of the coronavirus pandemic.
Awards of up to £1,000 will be made with priority to be granted where government support packages and emergency grants are unable to assist.