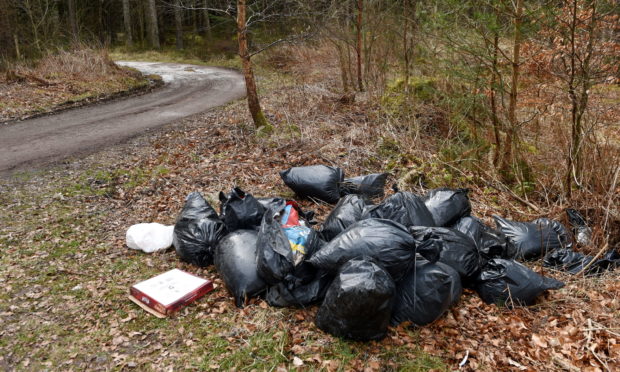 A mound of black bags containing stinking food waste has been found dumped in a Black Isle car park.
A passing cyclist spotted the bags, some 30 in number, deposited at the car park at the Clootie Well in Munlochy.
One open bag contained dog food. Horrified locals said the other bags contained food waste and the smell at the site was noticeable.
The Clootie Well is managed by Forestry and Land Scotland (FLS) and was cleared of fly-tipped rubbish in a concerted community effort last October.
Knockbain community council chairman John Stott said the latest incident was "disgraceful and disgusting".
He said: "I do wonder if it is as a result of the hoarding issues that we have seen in the past weeks.
"People came from far and wide last October to help tidy this place up in an effort coordinated thorough a lot of hard work by Maree Morrison from FLS.
"It is a bit of a slap in the face to see the Clootie Well abused on this level."
Paul Hibberd, visitor services manager for FLS, said the fly-tipping means workers will have to stop essential Covid-19-related work to deal with it.
He said: "We have a team engaged in essential harvesting work in the area.
"They at all times follow current NHS and government guidance as they work to provide timber that will be processed into packaging, biomass fuel and high quality paper products, like face masks, that are urgently required to help in this public health emergency.
"We are having to ask them to stop this essential work to deal with this incidence of fly-tipping and remove the waste.
"Dumping rubbish is criminal and highly anti-social at the best of times but to find it happening as everyone pulls together to tackle the covid-19 crisis is disappointing and frustrating to say the least."
Mr Hibberd said all FLS car parks, visitor facilities and mountain bike trails are closed to the public at present as it follows government advice to discourage unnecessary journeys.
He said: "We have also urged people to stay local and to only visit a woodland if they can get to it on foot, by bike or wheelchair.
"If anyone sees someone fly tipping from a vehicle in one of our car parks, or anywhere else, we would encourage them to call the Dumb Dumpers hotline on 0845 2 30 40 90 or police on 101."