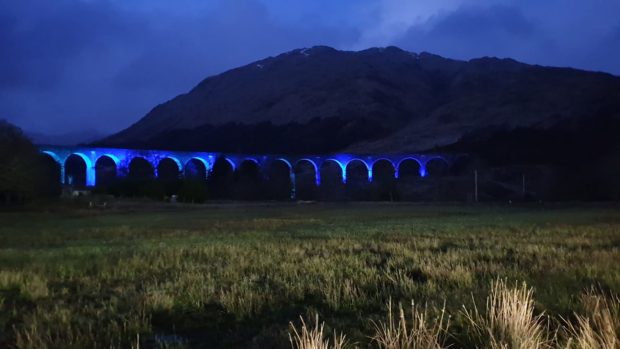 The sound of pipes and applause filled previously silent streets and iconic landmarks turned blue this week as the nation again gave thanks to NHS staff treating coronavirus patients.
The second 'clap for our carers' tribute again brought people to their doors and windows to show their appreciation for health workers during the pandemic.
Lone pipers from the islands to the cities synchronised to perform a mass rendition of Scotland the Brave in what is fast becoming a regular weekly event.
At the same time, some of the most recognisable buildings and structures, including Glasgow's SSE Hydro and Falkirk's Kelpies, were lit up in blue in support of the health employees.
Windsor Castle and the Scottish Parliament building in Leith were among other landmarks that took part.
The historic Glenfinnan viaduct, known to Harry Potter fans from its eye-catching appearance in the film series, was also illuminated.
Organiser Martin Whyte, of events company The Stage Group, said it mirrored similar activities undertaken by the entertainment industry during the enforced lockdown.
"We feel a huge sense of responsibility for the mental well being of many people within our industry, who have lost their jobs and have nothing to do.
"Lighting the viaduct gives us something practical to focus on and utilises our skills for something that will be appreciated by all of our key workers.
"Glenfinnan viaduct is iconic for the village, for Scotland and across the world and it has long been my ambition to light it up.
"What better time than now to make this happen as a gesture of solidarity with the front-line NHS staff who are risking their own health to help others during this pandemic."
Alan Ross, director of engineering and asset management at Network Rail, said he was delighted to be part of the campaign.
"We are grateful to those in the NHS and all of the key workers across the country who are playing, and will continue to play, a massive role in supporting us all as the country continues to respond to this pandemic."
Among the many companies that supported the event was Aberdeen Drilling Consultants (ADC), whose Queen's Street office is known by residents as the former site of the Tollbooth/Olive Tree restaurant.
Every night, the office's interior lights will be set to blue and a company spokesman said: "The commitment and dedication of all healthcare professionals during a time of crisis has been awe inspiring."