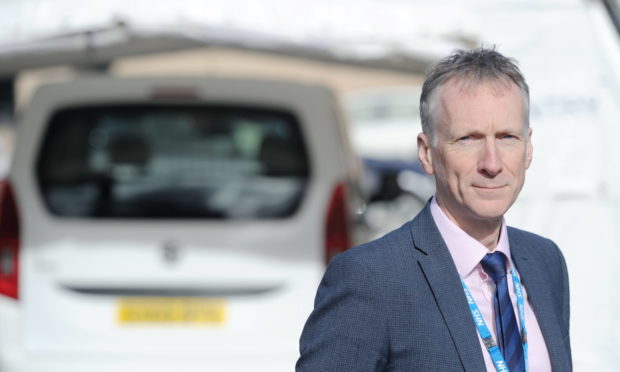 The medical director of NHS Highland has thanked members of the public for "being a hero" and saving lives by staying at home.
Dr Boyd Peters has urged north residents to continue to adhere to social distancing guidelines in the weeks ahead, as efforts to slow the spread of coronavirus continue.
Recent evidence from across the globe has shown that limiting social contact is beginning to make headway.
Dr Peters said: "I want to thank the public for their ongoing support in following the national guidance on social distancing.
"The statistical evidence from around the world shows that the social distancing measures are starting to work in slowing down the spread of the virus.
"However, it is important we don't become complacent.
"We understand that social distancing is challenging for people, especially those who are separated from family members during this time, but I would urge everyone to continue the collective effort."
Dr Peters added: "I would ask everyone to protect those in your community who are most vulnerable; by complying with social distancing you can be a hero. You can save lives. Please stay at home."
More people are now buying essential groceries online, to be delivered to their doors, but Highlands and Islands MSP Donald Cameron has called for shoppers to show "restraint" when placing orders.
The Conservative politician said that constituents falling into the "vulnerable" category face a three-week wait for a viable slot and he believes "able-bodied" residents have been using the service unnecessarily.
Mr Cameron said: "I have been contacted by local residents, some of whom have disabilities, who are having great difficulty in securing delivery slots because of the surge in demand for this service.
"We should remember that for some people this is a lifeline service, as they find it very challenging to physically shop in person."
Mr Cameron is now writing to supermarket chief executives urging them to prioritise certain customers when orders begin to flood in.
He said: "I know that some vulnerable people are being helped by friends and neighbours and that is very encouraging indeed, but others are not so fortunate and are experiencing real anxiety because of this.
"So please consider whether you really do require a delivery to your home and, if you do, please make sure you use the service sparingly and for essential items."
Inverness Chamber of Commerce chief executive, Stewart Nicol, highlighted the importance of shopping locally for those able to get out and about to pick up important items.
He added: "There are a number of local businesses in and across Inverness that are offering food delivery for a range of fresh produce, as well as staples like bread and milk. I think that is really innovative and it's a fantastic service."
Among dozens of community groups set up to ensure vulnerable people can receive shopping are Covid-19 Mintlaw Matters.
At an initial meeting in the north-east village there were only six people, but 60 volunteers came forward in the space of a week following the creation of a Facebook page.
Flyers were printed and distributed throughout the area highlighting the type of help that could be given, including shopping, delivering prescriptions and dropping off free school meals.
Neighbouring communities such as Auchnagatt, Maud, Strichen and New Pitsligo can also receive help.