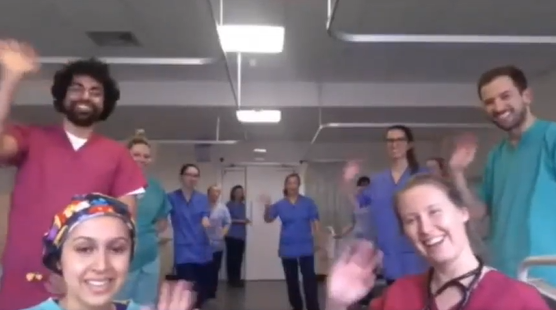 Medics in the Highlands have received a morale-boosting message from Posh Spice to thank them for the work they are doing during the coronavirus outbreak.
Victoria Beckham made the video call to staff at Caithness General Hospital in Wick to praise the "inspiring" front-line workers while trying to raise awareness of health advice.
NHS Highland has thanked the pop star and model for the gesture, which they say has given all employees a boost.
Staff at Caithness General revealed there have been offers of accommodation from locals as well as meals during their time living away from home in isolation while doing 12-hour shifts.
Some have been spending time apart from partners and children to minimise the risk of passing coronavirus to their loved ones.
The staff said none of them had been tested for the virus but were wearing masks, aprons and gloves as a precaution – with extra clothes available while treating patients with suspected Covid-19.
Medics also said the team had been put under strain in recent weeks with four doctors in isolation at one point and some nurses unable to work due to existing health problems.
Mrs Beckham told staff she hoped they "felt the love" from the moving rounds of applause that have taken place in streets across the length of the country.
She said: "It's so wonderful what you're doing, really. I keep saying it but the whole country feels so humbled by everything you're doing, the hours you're working – being away from your loved ones must be so difficult.
"Thank you for all you're hard work and everything you're doing. I don't even know what to say, I'm so humbled, thank you from the bottom of my heart."