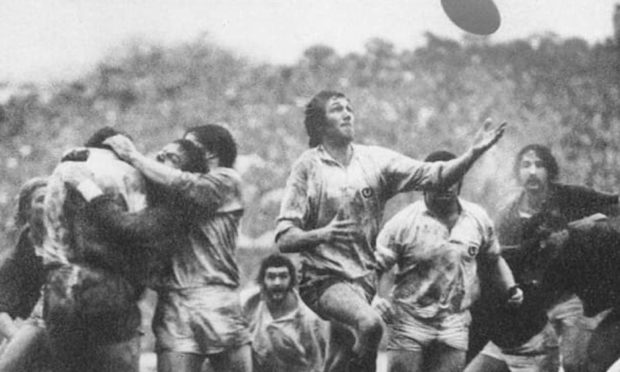 George Mackie was a Highland rugby stalwart and remains the only player to have been capped by Scotland while representing the north club.
Mr Mackie, who has died after a battle with cancer, represented the famed Highland side of the 1970s, donning the green and red jersey as a back-row forward.
He would go on to win four caps for the national side with whom he played in the number eight position.
Originally hailing from Aberdeen and of farming background, Mr Mackie, was a man of impressive stature, weighing-in at 15-stone and measured 6ft 5ins.
He was instrumental in the Highland club's march through the lower leagues, forming a formiddable partnership in the 70s and 80s with fellow back-row forward, the late Nairn MacEwan.
His dazzling performances at Scotland B level led to a call-up for Scotland's 1975 tour of New Zealand, in which he he took part in three of the seven organised matches.
He missed the opportunity to debut in a test match against the All Blacks due to injury, but later played against Australia in a victory on home soil, a 10-3 win in December 1975 at Murrayfield.
Following his debut against The Wallabies, Mackie would go on to represent Scotland a further three times, with appearances against Wales and France.
Colin Baillie, who coached Mr Mackie at Highland, said: "He was an extraordinary ball player, great with his hands and he could run all day.
"He was one of the fittest boys I worked with and probably the hardest trainer I have ever coached.
"George was first onto the park for training and last off.
"After a game, if we had lost, he would sit in the dressing room for about half-an-hour with his head in his hands. He took it really seriously.
"I would go over to him and say 'C'mon George, it's just a game' to which he would reply 'it may only be a game to you, but it's life to me'.
"That's how he was. He took his game very seriously.
"He was a lovely, lovely guy. He was a gentle giant off the pitch and a great example to his fellow players.
"On the pitch he would do any task, and off the field he was the same.
"He was an exceptional rugby player and an exceptional lad too. He will be sorely missed by all."
Upon retirement from the game, Mr Mackie moved south with his family to a 500-acre farm in Essex, where he created a thriving business selling Christmas trees and logs.
He lost his battle with pancreatic cancer last week, leaving behind a loving wife in Catherine MacLeod – a former journalist and advisor to Alistair Darling – as well as sons Robert and Hector.
Graham Findlater, Highland Rugby's president, said the club was delighted to entertain Mr Mackie just weeks ago, adding that the thoughts of all at Highland go out to his friends and family at this time.