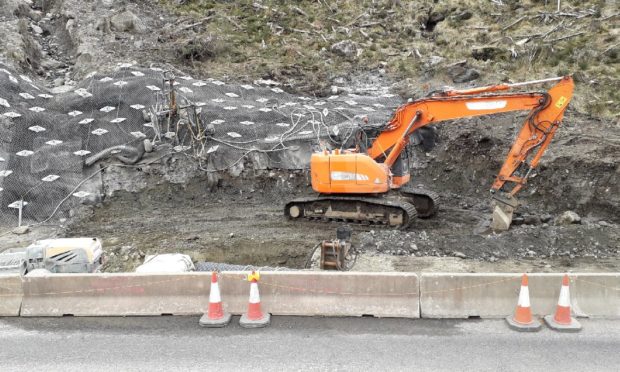 Work to dig a "catch pit" on a hillside to prevent 1,000 tonnes of debris falling onto a busy trunk road is nearing completion.
The A83 Tarbet to Campbeltown road in Argyll was left blocked at the end of January when a huge mound of mud, trees and rubble fell onto the carriageway at the Rest and Be Thankful spot.
An emergency alternative route, the Old Military Road, was put in place helping motorists avoid a lengthy diversion while the landslide was cleared up.
The completion of the catch pit means that traffic lights will be removed from the landslide site by Monday, and both lanes of the A83 will be reopened.
Forestry Land Scotland (FLS) planning manager, John Hair, said: "We've been making really good headway with this work, thanks largely to our contractors GeoRope who, since day one, have been doing a great job and have been working seven days a week to stabilise the hillside.
"The catch pit has been properly excavated now and the sides are almost completely secured.
"All that remains to be done is to add the last earthen barrier between the pit and the road, which will help stop any debris that might come down the hill in the event of any future extreme weather events."
Work to repair a forest road damaged during the same incident will continue until June.
Mr Hair added: "The forest road will be longer-term work but we've nearly finished the first of eight sections."
The onsite team has been taking care to maintain social distancing and to observe all current NHS and Government health advice relevant to the Covid-19 crisis.
The landslip in January followed a prolonged period of extremely heavy rainfall.
Although these circumstances are unlikely to be replicated at other sites, FLS has already amended its inspection process to include checks on other forest roads set in similar landscapes.