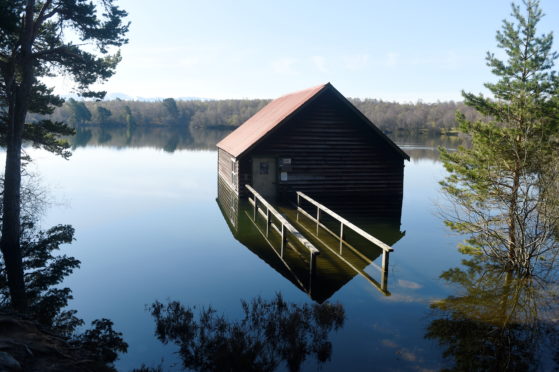 A Highland loch has once again seen a dramatic shift in water levels despite one of the driest Aprils on record.
Loch Vaa, which lies between Boat of Garten and Aviemore, has been a popular destination for fisherman, photographers and visitors to the local area for many years.
In May last year, locals had recorded a drop in water levels by more than four foot, leading to the loss of millions of gallons on water in just eight months.
Almost year on, keepers of the 39 acre loch which is sustained by a spring, have now recorded what is believed to be their highest levels in 20 years, despite experiencing one of the driest Aprils on record.
Pictures show the difference a year makes, following the 8ft rise in water levels.
The cause of changing water levels at the picturesque loch, which lies within the Cairngorm National Park, has remained a mystery for many public bodies for some time.
Councillor Bill Lobban previously called for a full investigation to be conducted to help establish the cause of changing water levels and preserve the Highland beauty spot.
In October, archaeologists recorded the lowest levels in at least 750 years, after water began vanishing gradually over several weeks.
Investigations failed to identify the cause, leading to water levels returning to normal a few weeks later.
Andy Ford, Head of Conservation at Cairngorms National Park Authority (CNPA) said the fluctuation in water levels is down to the changing climate.
He said: "Loch Vaa is fed from natural springs which are dependent on the level of the water table.  The water level rises and falls with the flow of the springs into the loch, which in turn are affected by recent weather events and snow melt upstream.  Unusually high levels are likely to be caused by these factors."