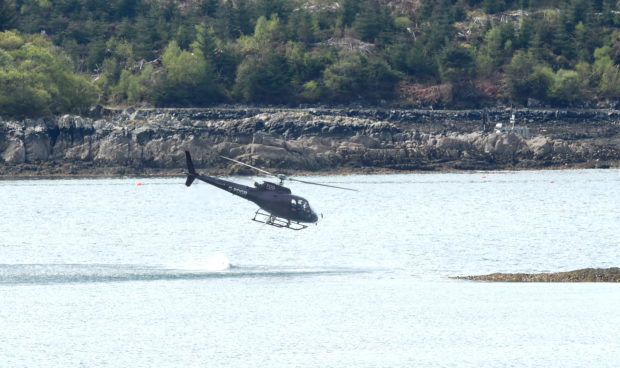 Firefighters have this afternoon returned to the scene of a wildfire in Wester Ross after an area spanning 32-foot reignited.
A crew from Torridon returned to Kishorn at 2pm this afternoon to combat the blaze, which had burned for 41 hours before being extinguished last night.
The fire is said to have spread to the Reraig Bay area, with Applecross and Lochcarron joining in efforts this evening.
The fire has been contained again with crews dampening down hotspots.
At one point the fire possessed a front of more than five miles.
Two fire crews were in attendance this morning to dampen down and check for hot spots before departing at 9.40am.
Crews from all over the Highlands have been in attendance with the operation co-ordinated from Achintraid.
Firefighters from Applecross and Torridon initially attended the blaze after a call out at 4.20pm on Monday afternoon.
Appliances from Kyle of Lochalsh, Lochcarron, Broadford, Dingwall, Glenelg and Gairloch all attended the scene, alongside a command unit and all-terrain vehicle from Inverness, with around 70 firefighters and officers involved.
Locals joined in the effort, determined to prevent the blaze from reaching any property.
A helicopter was brought in to help curb the fire's spread, collecting water from a nearby loch and water-bombing the blaze.
By tackling it in sections, the firefighters managed to confine it to one area.
Late into Tuesday evening, there were still four appliances at the scene, with the fire spread having been contained earlier in the day.
Shortly before 10pm last night, the fire was down to two fronts some 200 yards in length.
Meanwhile, Scottish Natural Heritage (SNH) and the Scottish Fire and Rescue Service (SFRS) are warning of the increased risk of wildfire across most parts of the north of Scotland after one of the warmest Aprils on record,  and with weather forecasters predicting dry conditions to continue.
There have already been other incidents where local estate keepers and SFRS have been called in to help extinguish wildfires.
The muirburn season is now closed,  but fires may start sparks from garden bonfires, the use of sky lanterns or cigarette ends.
SNH and SFRS are particularly keen to ensure both land managers and the public take extra care to avoid wildfires to prevent extra pressure on emergency services.
Those injured in fires may run the risk of limited availability of ambulance services and hospital beds.
Adam Rose, SNH's manager for Loch Fleet National Nature Reserve near Golspie said : "We are appealing to local communities and those planning on taking their daily recreation at Loch Fleet to be aware of the current high fire risk and help us to avoid fires.
"A fire at Loch Fleet would not only cause significant damage to the reserve's nationally and internationally important habitats and species, but also potentially harm local residents and businesses that surround the reserve, as well as placing an unnecessary strain on emergency services."
Station Commander Jason Gardiner, SFRS Sutherland district manager said: "Many rural and remote communities are hugely impacted by wildfires which can cause significant environmental and economic damage.
"Livestock, farmland, wildlife, woodlands, moors and peatlands can all be devastated by fires – as can the lives of people living and working in rural communities.
"How people behave can significantly lower the chance of a wildfire starting, so it's crucial everyone acts safely and responsibly in rural environments."
Dispose of litter and smoking materials carefully while in rural areas, as well as being particularly careful when burning garden waste.
Advice can be found by visiting the Scottish Fire and Rescue Service website at www.firescotland.gov.uk.