Thousands of people are urging a crackdown on holidaymakers heading for the Western Isles as politicians call for people to keep away from the west coast and islands.
Catriona Morrison, who lives in Stornoway, started a petition which calls on authorities to "increase control on use of our islands ferries, by giving (ferry company) CalMac more powers to refuse travel".  It had been signed by 2,246 people by yesterday.
It adds: "Stop, check and ask all passengers and deny travel to ANY who cannot prove necessity of journey. Now, more than ever, we need to batten down the hatches and keep our islands safe.
"The risks of this horrible virus entering our Covid-free communities is just far too huge to ignore."
A CalMac spokesman said they are turning away people who are not able to produce evidence of island residency or key worker status.
"However, it is important to note that we do not have police or civic powers. If even stricter measures are required then this is a matter of Government policy and would require a political solution."
A spokesman for Police Scotland said: "In relation to any specific concerns, we have been – and will continue – to respond and follow agreed processes."
The moves came on the day when a national newspaper printed a picture of Loch Roag in Lewis with the caption "People will be able to travel to beauty spots from Wednesday".
The photo, which the First Minister made reference to during her daily briefing, illustrates the confusion now there are subtly differing guidelines for different parts of the UK.
MSPs for constituencies covering an area from Skye to Kintyre as well as the Outer Hebrides issued 'stay away' messages, while a petition called for a clampdown on travellers coming to the islands during lockdown.
Kate Forbes, MSP for Skye, Lochaber and Badenoch, said: "Communities throughout our constituencies – which cover a huge part of Scotland and almost 30 inhabited islands – are telling us that they want the lockdown to continue, and to be firmly enforced, so that lives can be saved.
"Many are concerned that the new UK Government message is confusing and worried that people will feel that they are now free to visit the wonderful Highlands and Islands of Scotland, which look their best in the current sunny weather.
"Whilst tourism is the lifeblood of our areas it is absolutely vital that the Scottish regulations are observed and that means people are not free to visit at present."
She said if rules are flouted it will put lives at risk and set back any hope of slowly easing the lockdown.
Michael Russell, who represents Argyll and Bute, said people run the risk of an even longer lockdown and also overwhelming the health service: "That would put every one of us in danger."
He went on: "There can be no ifs, no buts and no excuses. Please stay at home, protect the NHS and save lives."
Western Isles MSP Alasdair Allan said there have been no Covid-19 fatalities in the islands but people need to remain vigilant.
"The confusion the UK Government's messaging has caused is disappointing, as was the inexplicable decision of one national newspaper to publish a photo of the Isle of Lewis with a caption saying that people would be able to drive to beauty spots from Wednesday.
"This is absolutely not the case in Scotland, and especially not for the islands. The guidance here remains clear: unnecessary travel to the islands is not permitted. Please do not try and visit."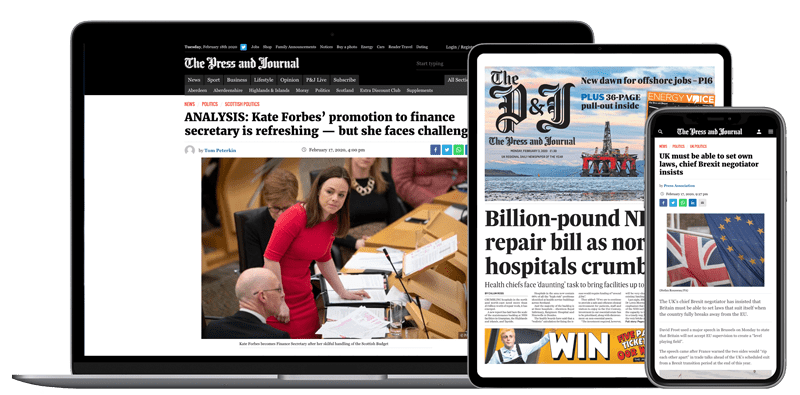 Help support quality local journalism … become a digital subscriber to The Press and Journal
For as little as £5.99 a month you can access all of our content, including Premium articles.
Subscribe