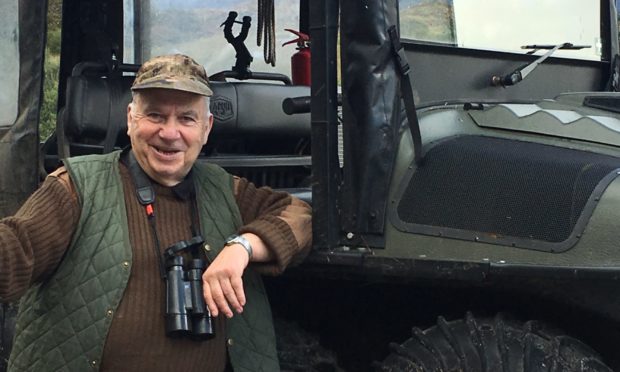 If Fergie MacDonald's cat could talk she could by now relate a few tales about her owner. Of course, she would have to be quick to get a word in.
The legendary Ceilidh King is in lockdown at home in Mingarry in the west Highlands.
And with wife Maureen isolating with a granddaughter, Fergie is home alone, his only audience for now being Lush the family feline.
"I speak to her every day", he says "She's the only one I have here for conversation and I tell her all my stories."
The larger-than-life entertainer is used to performing in front of a room full of people or being at the centre of the party, onstage and off.
Even at 83, and having cut back on public shows in recent years, he was still booked to play a few gigs in the coming weeks, including the 25th anniversary Hebridean Celtic Festival and the Gig in the Goil.
So it could have been a difficult transition staying at home and living in isolation in a remote part of the country.
Adapting to the current restrictions is, however, just another chapter in a long and colourful life that has seen Fergie overcome a major battle with a serious stammer, continue his fight with another demon (alcoholism), survive a near-death road crash and come through major heart surgery.
He's emerged from them all with another story on his lips and usually a new tune in his head.
"It's weird. I'm sitting here looking over at Mingarry Park (the luxury guest house and restaurant owned by son John and his wife Emma, currently closed due to Covid-19) and I don't see a soul.
"It's a very isolated place. I see the odd vehicle or maybe a neighbour walking their dog.
"The two metre distancing changes everything and life as we know it.
"Folk will get back to work, but not in the same way. And how can you hold concerts and festivals with people two metres apart?
"But I'm fortunate living in a rural place.
"What worries me is the poor souls living ten storeys up. It must be horrendous for them.
"There is such a cry to get out of isolation, but the bottom line is the virus will still be there. It won't just go away.
"So things will not be as they were until some boffin comes up with a vaccine.
"I know I'm one of the lucky ones. I have a lovely garden. I can go for a walk. I can go into the hills. And my phone goes at all hours."
Then there is keeping fit and entertaining his Facebook followers with videos of cutting logs, which have been viewed by thousands of people, as well as regular radio chat shows.
And of course there is playing his button box accordion and writing tunes.
Fergie's most recent composition is 'The Bent Note', a pipe march that he's turned into an online competition.
"Being outside the pipe scale, pipers can't play one of the notes which is predominant throughout the tune.
"However, modern day pipers get round the problem by bending the note as they call it, hence, The Bent Note."
Fellow musicians are being encouraged to learn the tune and post a video on Fergie's page.
The winner will get an, as yet unannounced, prize.
"There are no fancy rules for the competition," he says, just "a bit of fun and craic".
He's also using lockdown to start work on another new tune, so far without a name.
Like all his hundreds of other compositions it will go to 'The Jury' before it is made public – trusted fellow musicians, piper and fiddler Allan Henderson from Blazin Fiddles; Trail West accordionist Ian Smith; fiddler Addie Harper, piper Angus MacColl and accordionist Phil Cunningham.
"I write a lot of rubbish, as I see it.
"A very small amount of the tunes I write actually make it.
"I have a ritual of going around all these guys who tell me the truth and give an honest assessment of the tune.
"That's how you know if there's something there that other musicians will like and want to play.
"I once went to Addie with what I thought was a dash good tune.
"He listened and then said 'Fergie, you've composed that tune before'.
"I'd forgotten that the second part was in an old composition."
Fergie has been playing music since the age of 14, when he got his first accordion, but a career in entertainment didn't follow immediately.
On demob from the Army, where he was a physical training instructor (PTI), he graduated as a physiotherapist in Glasgow.
It was at this time he tried to cure the severe stammer that had affected his early life.
And of course there is a story about it.
Spotting a newspaper advert offering a three-step cure, starting at £50 a lesson, he turned up at a house in Edinburgh.
The advice involved emitting a loud 'Ha' at the top of his voice every hour, no matter where he was.
As luck would have it, his next exclamation was due just as he arrived at the urinals in Queen Street Station on his way home to Glasgow.
"The time was up and I shouted 'Ha'. People looked around to see what was going on…and there was pee everywhere."
A second lesson wasn't pursued, but over the years Fergie overcame the impediment and now helps others deal with similar problems.
He formed his first band in 1953 and cut his first record in 1962.
Four years later, his song 'Loch Maree Islands' topped the Scottish pop charts and became his signature tune.
It has been revived recently by Hebridean phenomenon Peat and Diesel.
There are many other accolades over the years, including being inducted into the Scottish traditional music Hall of Fame.
His song 'The Shinty Referee' was an international hit and reached the top of the iTunes World Music Charts – which at one point read No1 – Fergie MacDonald, No. 2 – Rihanna.
Another well known tune, 'The Jig Runrig', has been played by more than 500 musicians worldwide.
The tunes have never dried up – "although sometimes they take five minutes, other times they take over a year" – and Fergie launched his 50th album in January.
The names of the tunes give an insight into his inspiration – 'Dr Andrew Frapan' was written for the consultant who oversaw his open heart surgery seven years ago, and the surgeon who performed the operation will get the same accolade soon, while 'Archie Harrison's Reel' was written for one Archie Harrison Mountbatten-Windsor, the son of Prince Harry and Meghan Markle.
'The Crash at Glacmor' was in response to his own near-death experience when his car crashed off the road last year.
And 'Gary Innes Take the Floor' was inspired by the superlatives used by the host of the Radio Scotland programme when introducing guests "Super, magic, the tune is wonderful; it is excellent, fantastic, lovely, cracking beautiful; the harmonies outstanding, the chords are smashing too; You're incredible and marvellous, brilliant stuff from you".
The song was well received and is now used to introduce a new programme Take the Floor Requests on BBC Radio Scotland.
He's also turned his hand to writing books. 'The Moidart Sniper', released in 2018, written with Allan Henderson, tells the story of his father John (Ton) MacDonald who was a respected sniper with the Lovat Scouts Sharpshooters in World War I.
The next writing task is a new biography, updating 2003's 'Memoirs of a Musical Legend'.
"So much has happened since then, it's time for another one," he said.
One honour has eluded him so far. Despite reputedly being nominated at least seven times, Fergie's name has yet to appear on the Honours List.
"It's been mentioned by a few people, but it's not something I can do anything about. It would be nice though."
The many faces of Fergie MacDonald
Ferguson (Fergie) MacDonald is directly descended from the Moidart MacDonald Clanranalds whose family history weaves through the 1745 Jacobite rising, Culloden, the Highland Clearances and the battle of Sherrifmuir.
The young Fergie was quite an athlete, winning track and field prizes at many Highland games.
Since then, his list of occupations of pastimes includes Army PT instructor, physiotherapist, international shooter, band leader, hotelier, poacher, gamekeeper, red deer manager, singer, writer, composer, local historian and Highland Games chieftain.
His father, John 'Ton' MacDonald, the subject of 'The Moidart Sniper', fought in the Great War and such were his exploits he was recruited to the renowned Lovat Scouts Sharpshooters, a crack sniper unit regarded as the forerunner of the SAS.
The eye for a target has passed through the generations – Fergie represented Scotland at clay pigeon shooting and his son John became Scotland's number one Olympic Trap Clay Pigeon shot, competing for Great Britain at World Cups, World and European Championships and the Commonwealth Games.
Growing up, Fergie's father's skills helped provide the family with rabbit or venison for dinner, while, as a cash-strapped student, Fergie's marksmanship ensured he had a Christmas meal courtesy of the Kelvingrove Park duck pond.
His music career has taken him the length and breadth of Scotland and beyond.
Along the way there have been tales of missing gigs, dances relocated as the band failed to get off the ferry at the correct stop, and songs being promoted by requests from 'Willie John MacPhail', a repeat offender whose address usually matched the band's location.
Fergie's exploits have also for many years featured during Phil Cunningham's gigs as he recalls tales of his fellow accordionist.
"I've mucked up Phil Cunningham's act", he laughs.
"If he doesn't do it, people shout out 'How's Fergie?' and that's the cue for another story."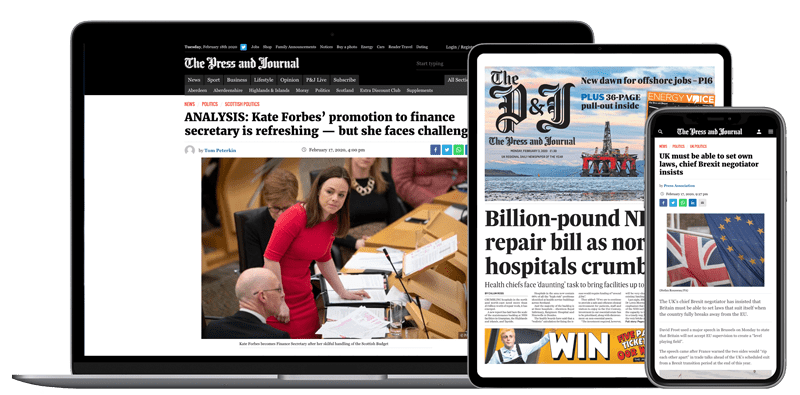 Help support quality local journalism … become a digital subscriber to The Press and Journal
For as little as £5.99 a month you can access all of our content, including Premium articles.
Subscribe