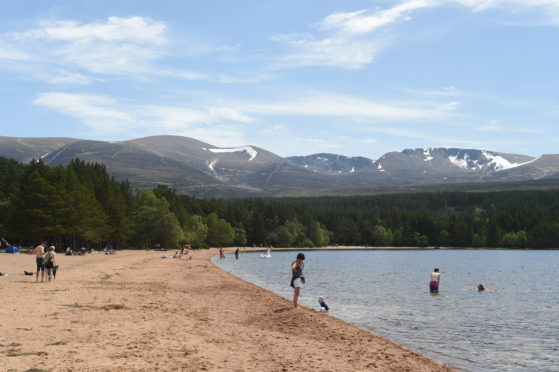 Police are encouraging people to "take personal responsibility" and "do the right thing" as warm weather is expected to hit the north of Scotland this weekend.
Despite the Scottish Government's changes to the coronavirus lockdown restrictions, Highlands and Islands division Superintendent Iain MacLelland is making it clear that people should only leave the house for very limited purposes.
He said: "We are asking people to take personal responsibility to do the right thing and remember the purpose of these measures is to aid the collective effort to protect the NHS and save lives by preventing the virus from spreading.
"People should only leave the house for very limited purposes, for example for basic necessities, for exercise or recreation, for medical needs or travelling for work which cannot be done from home."
The warning comes as sunny weather is poised to lifts spirits across the north for Saturday and Sunday.
With temperatures potentially reaching a maximum of 27C, accompanied by long spells of sunshine, it is expected that beaches and beauty spots could be busy.
Supt MacLelland continued: "We recognise that people have made significant sacrifices until now and while the temptation may be to head straight for one of our beauty spots, we would ask people to use their judgement and avoid going to places which are normally busy during the good weather.
"Complying with the legislation about meeting only one other household outdoors at any one time and following the Scottish Government's guidance about avoiding travelling long distances will stop our parks, beaches, lochs and hills from becoming over-crowded and help ensure appropriate physical distancing is maintained, reducing the spread of coronavirus.
"We want people to enjoy our outdoor spaces safely and our officers will be robustly tackling crime and anti-social behaviour in our communities."
Officers will continue to engage with the public, explain the legislation and guidance and encourage compliance. Enforcement will only be used as a last resort only where there is a clear breach of the legislation.
Dr Ken Oates, NHS Highland's interim director of public health, added: "I would like to thank everyone across the NHS Highland area for their response to the lockdown measures that were put in place. These efforts, which we know will have been challenging, have really helped us in our response to the pandemic.
"Lockdown restrictions have eased slightly but we must not be complacent as the virus has not gone away. I would ask everyone to still adhere to the measures which have been put in place which include staying at home as much as possible and adhering to physical distancing when they are outdoors, especially if you are taking the opportunity to spend time with another household.
"These measures are still very important to ensure we can restrict the spread of this virus as much as possible."