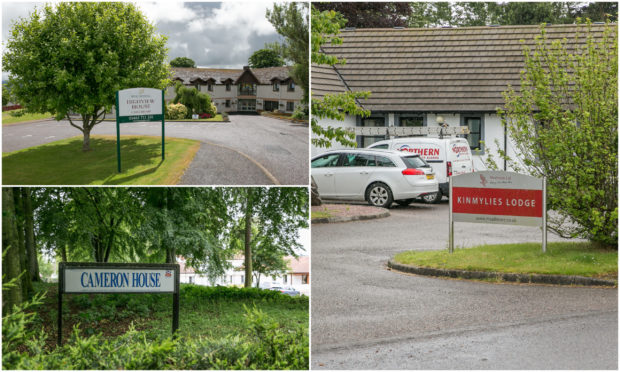 Police are hunting thieves who made off with a substantial amount of cash after breaking into three Inverness care homes.
An appeal for information has been launched after a sum of money totalling more than £700 was taken.
Police have said the incidents could be linked to break-ins at care homes in Inverness, Daviot and Kingussie back in March.
In this week's incidents, thieves targeted the specialist dementia unit at Church of Scotland run Cameron House on Culduthel Road, Kinmylies Lodge and Highview House Care Home overnight between Tuesday evening and Wednesday morning.
The break-ins have forced staff to undertake extensive cleaning to protect residents from any heightened risk from coronavirus.
Officers are particularly interested in tracing a grey Audi S5 after it was seen in the areas surrounding the homes on Culduthel Road, Kinmylies Way and Scorguie Avenue.
Kinmylies Lodge described the break in as "a particularly despicable crime carried out by people who are trying to exploit a crisis to their own benefit".
Detective Sergeant Graeme Johnstone of Inverness CID said: "Targeting care homes in this way is a particularly cruel act and extensive inquiries are ongoing to identify whoever is responsible."
He urged anybody with dashcam footage of the Audi S5 to come forward "as soon as possible".
In March, precious items of jewellery and sentimental items were taken alongside a safe from the Isobel Fraser Care Home on Mayfield Road, Inverness, Meallmore Lodge in Daviot and the Wade Centre in Spey Street, Kingussie.
'These are people who have no conscience, no pity': Anger after 'despicable' spate of break-ins at north care homes
Nobody has been traced in connection with the incidents.
Highlands and Islands MSP Rhoda Grant said: "It is despicable that this has happened and it's especially cruel when you consider the extra pressure that care homes are currently under.
"Care home staff have enough on their plates right now without having the extra worry of their own safety, because of break-ins in around the area.
"It's truly awful."
A spokeswoman for Meallmore, who operate the Kinmylies Lodge care home, said: "We follow robust infection control procedures at all times, in line with Health Protection Scotland guidance, and have applied the same rigorous standard of measures in cleaning up after the break-in."
A spokesman for CrossReach, the operating name of the Social Care Council of the Church of Scotland, said they were saddened to learn of the event.
He added: "We can assure the public that whoever was  responsible was confined to the manager's office and did not go anywhere near the residential part of the care home, therefore did not present a risk to the residents."
Entry was restricted to just the office area of Cameron House with operators now considering implementing greater security measures.
Anybody with any information is urged to contact police on 101 or Crimestoppers anonymously on 0800 555 111.