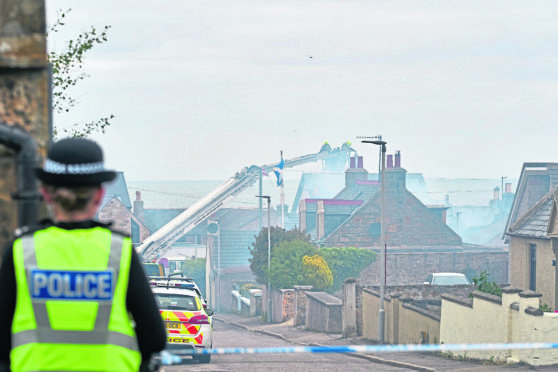 Dozens of firefighters spent hours battling two massive blazes last night- as a Moray home was left "gutted" and flames tore through buildings at a cattle mart in Oban.
Crews were called to the house fire in Hopeman yesterday afternoon, while plumes of dark smoke billowed over the hills surrounding the Oban Livestock Centre.
Firefighters from across the region descended on a narrow residential lane in the Moray village at 4.20pm.
Operations control sent eight fire engines from surrounding towns and villages to Clark Street, as well as a vehicle with a platform to allow staff to tackle the blaze from above.
Last night a spokesman said he expected crews to remain at the scene for "some time" before they would gain control of the blaze.
He said: "We were alerted at 4.20pm to reports of a fire within a building on Clark Street, Hopeman.
"Operations control mobilised eight fire and one height appliance to the scene and firefighters are working to extinguish the flames."
Residents flocked to offer their help to the rescue workers, volunteering to open the Memorial Hall in Farquhar Street as a base of operations if needed.
An onlooker, who did not wish to be named, told The P&J the house had been "more or less gutted" by the fire.
He said: "I can only hope the people who live there are safe."
A police spokesman said: "Around 4.20pm on Sunday, 8 June, police were made aware of a fire at Oban Livestock Centre.  The fire is not being treated as suspicious."
The stop message was received at 12.52am this morning.
Around half an hour before the Hopeman blaze was reported, Arygll and Bute firefighters had been called into action at the mart in Oban.
It is understood that the mart itself escaped serious harm, but that surrounding units including the Oban Country Store were affected.
Dramatic images of thick black smoke emerged from the scene, with plumes visible from miles around.
The control room in Johnstone tasked seven fire engines to tackle the blaze at the United Auction-run market.
A fire spokesman confirmed last night that crews had been called to a fire at the livestock market in Oban at around 3.45pm.
The operation was scaled back at around 8pm when only two fire engines remained on scene to dampen down the remnants of the blaze.
United Auctions could not be reached last night for comment.