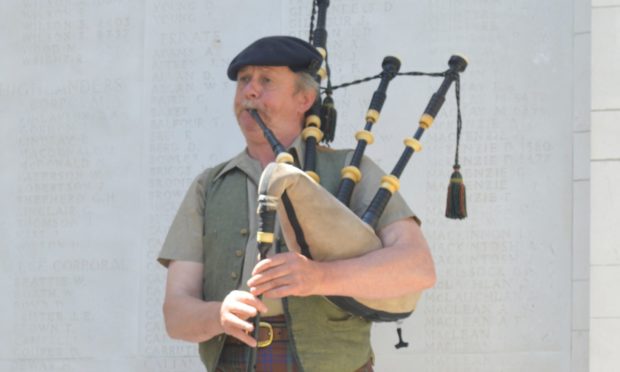 A historic set of bagpipes which survived World War I will be played to mark the 80th anniversary of the battle of St Valery en Caux.
Pipers from across the north of Scotland are among 400 musicians worldwide who have signed up for an event on Friday to mark the World War II battle.
At 10am they will take to their doorsteps to play the tune Heroes of St Valery, and now an appeal has been made for pipers from shinty-playing areas to join the commemoration.
Shinty-playing communities suffered heavy losses in the battle and, as well as taking part in the formal event, pipers from these areas are being asked to play the tune and record a short video for Shinty Memories, which helps people with mental health issues.
Already pipers from Inverness, Oban, Skye, Ross-shire, Badenoch and Glasgow have signed up.
Among them is Duncan MacGillivray, of Calrossie, near Tain, who will play the Donald Paterson of Beauly Bagpipes, which were retrieved from the battlefield at Festubert in 1915, where Paterson died with his brother Alistair.
Shinty Memories coordinator Hugh Dan MacLennan said: "They are arguably shinty's most significant set of bagpipes and have a special place in the history of shinty and piping.
"Duncan took the pipes back to Festubert for the first time since 1915 in 2018 and will play them to mark the St Valery anniversary."
Heroes of St Valery was composed by Lewis-born Pipe Major Donald MacLean. He enlisted in the Seaforth Highlanders in 1940 and was subsequently attached to the 51st Highland Division.
A week after the mass-evacuations from Dunkirk, the 51st remained on the continent under French command. They put up a fierce final defence against the Nazi onslaught, but, after more than ten days of intense fighting, plans for a Dunkirk-style evacuation were put in place.
A combination of poor weather and the proximity of German artillery made escape impossible and the Division was forced to surrender on 12 June 1940.
Mr MacLean was held as a POW and composed Heroes of St Valery to commemorate those who fought and fell there.
Shinty Memories ambassador John MacKenzie said: "The name St Valery is right up there with all he battles which have had tragic consequences for many families who were, and still are, involved with shinty.
"Piping is also an integral part of our sport and community, and we know how important that was in the war.  This is a very appropriate way to recognise the events of 1942."
Legion Scotland, Poppyscotland and RCET: Scotland's Armed Forces Children's Charity have joined forces to organise the tribute.