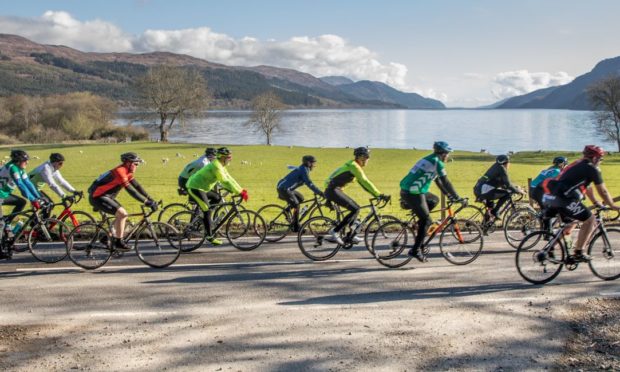 A major sporting event has fallen victim to the coronavirus pandemic, delivering another blow to the Highland economy.
The Etape Loch Ness cycling event has been cancelled this year, having previously been re-scheduled from April to September.
Organisers Caledonian Concepts said they took the decision having considered the health and welfare of everyone involved. Entries will transfer to the 2021 event on April 25.
It follows the postponement of other events, including the Tour of Britain which was due to finish in Aberdeen in September, at a time when cycling has become more popular during lockdown.
Event director Malcolm Sutherland said it is a highlight of the cycling calendar but would not be the same with social distancing measures and other restrictions.
"With huge numbers of people finding a passion for cycling over the lockdown period and sales of bikes soaring, we look forward to seeing past participants and new cyclists enjoying our event in 2021 and for years to come."
Last year Etape Loch Ness generated £1.4m for the local economy, while the event has raised £1.2m for official charity, Macmillan Cancer Support, since 2014.
Stewart Nicol, chief executive of Inverness Chamber of Commerce, said it is another example of the virus impacting the economy: "It is hugely unfortunate but it's very much a feature of business right now."
Highlands and Islands MSP David Stewart said: "It is very disappointing on all fronts that this has to be cancelled, not only for the amount it brings into the local economy, but for the promotion of sport and fitness and the financial benefit it would have brought to sponsored charities."
Hayley Short, head of challenge events for Macmillan, said the loss of such fundraising events will impact on all charities.
"We anticipate a loss of 35-50% in our fundraising revenue this year and are doing everything we can to limit the impact of this on our services, and our number one priority is to continue to support people with cancer in every way we can."
Tom Collier, chairman of Grampian Cycle Partnership, said large-scale cycling events can inspire people to connect to cycling and help the economy.
"But if we can channel the increase in cycling now, and as we go through the phases of reducing lockdown build the infrastructure to keep people safe to travel to and from work or whatever to keep people on bikes, these events will be even bigger in future."