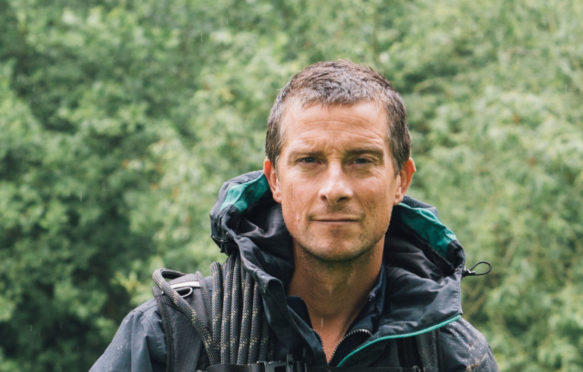 He has beaten starvation by eating bugs in some of the world's most inhospitable locations and famously taught TV viewers to survive in a sandstorm by sleeping inside the carcass of a dead camel – not to mention serving with the SAS.
But thrill-seekers signing up for Bear Grylls' survival courses in the Highlands – the first since lockdown – might be surprised at the kit now being handed out – face masks and aprons.
Strict health and safety measures have been imposed to allow his Survival Academy at Alladale Wilderness Reserve, in Sutherland, to reopen – meaning adventurers will be asked to wear personal protection equipment (PPE) and have regular temperature checks.
The Eton-educated star, 46 – whose hit shows include Running Wild with Bear Grylls – said: 'Safety is our top priority and we are making sure all necessary safety requirements are in place so we are ready to start running courses as soon as Government guidelines permit. All of our instructors have been trained on Covid-19 safety protocols and will use face masks, gloves, aprons and eye protection as necessary.
'All participants will be asked to sign a Covid-19 acknowledgement of risk form and agree to temperature checks before being allowed to take part in course activities.'
And he tells potential recruits: "Our goal is to provide you with an unforgettable experience while maintaining the highest standards of safety during this global pandemic."
The pandemic meant the first two of the bushcraft expert's survival courses could not take place this year, but the next pair are due to go ahead in August and September.