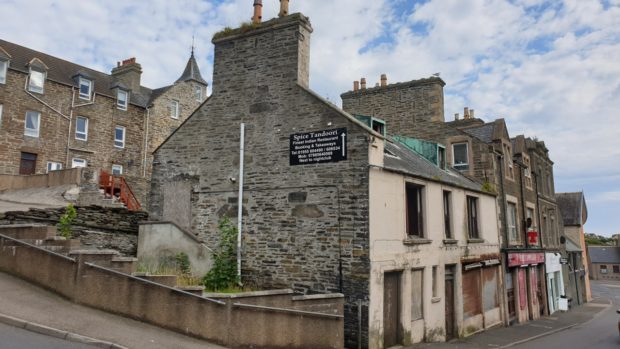 Demolition work to tear down two 'eyesore' buildings in Caithness is to start soon as part of a large-scale regeneration project.
Number 30 and 126 on Wick High Street, known locally as Dominoes and Sloans, have lain vacant for decades.
Following months of negotiations, preparations are now undernway by the Highland Housing Alliance (HHA) to demolish both premises and remove all debris and contamination from the sites.
The project forms part of the town's regeneration project which aims to connect the centre with the harbour and river areas.
When the work is finished, the sites currently owned by Argyle Properties (Dundee) Ltd will then be handed over to the Wick Development Trust for redevelopment.
It is hoped that both sites will be ready for handover by late this year or early next year.
Gail Matheson from HHA said: "This is great news for Wick. Nobody likes to see derelict buildings on the High Street, and we are pleased to have the opportunity to work with the Highland Council and the Wick Development Trust to safely remove these eyesores from the High Street. The cleared sites will present some great redevelopment opportunities."
Funding for the project was secured by the Highland Council from the Scottish Government's Vacant and Derelict Land Fund and Town Centre Fund.
This funding was provided to the Highland Housing Alliance (HHA) to acquire both properties and land and manage the process.
The deal marks a major milestone in the project following months of negotiations by local councillors.
Local councillor and Acting Chairwoman of the Wick Development Trust, Nicola Sinclair, said "it's a bright light in these dark times."
She said: "This is a major step forward for Wick town centre, which has been many months in the making.
"I know the community will be pleased to see an end to these eyesore buildings, and as interim chair of Wick's Heart I will help the public to discuss further development and access funding.
"This can be done with confidence since the cleared sites will not incur costs to the community, and for the first time we will have the power locally to move forward with a meaningful regeneration of our town centre. It's a bright light in these dark times."
Councillor Raymond Bremner said the news has been a "long time coming".
He added: "From the first pictures we took of derelict buildings in the summer of 2017 we were committed to tackling the problem in the town centre and to seriously deliver on regeneration.
"Two of the most well-known eyesores in the town centre, undoubtedly fine buildings in their time, will finally be no more. This has been a long time in coming but I hope the townsfolk will be happy that the buildings will now be removed, and regeneration of the areas will now take place."